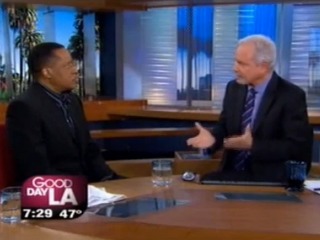 Radio host Larry Elder stopped by Good Day LA on Tuesday, where he offered his perspective on the case surrounding Trayvon Martin and his alleged shooter, George Zimmerman.
Much opinion media coverage of Martin's death has expressed a sense of frustration over the injustice of the situation, with MSNBC's Lawrence O'Donnell and his panel last night, for instance, emphasizing the fact that Martin had been unarmed while Zimmerman had been in possession of a gun. Speculation as to whether racism may have played a role has also shaped coverage of Martin's death, as has confusion and frustration over Florida's "Stand Your Ground" law.
RELATED: Lawrence O'Donnell Panel Condemns The Injustice In The Trayvon Martin Case
Elder, however, offered perspective that shifted from the common narrative surrounding the teen's death. This morning, Good Day LA shared a poll showing that 89 percent of the show's viewers agreed that the Justice Department should look into the Trayvon Martin case. "There's a big outcry," Elder observed, "and I think, for PR purposes, we have to look as if we're concerned about whether or not this 17-year-old was killed."
Host Jillian Reynolds took exception at his phrasing. "I hate the way you say 'for PR purposes,'" she told him. "Come on, a child — maybe not a child, but a teenager was killed."
"Well, why are we sure that the authorities in Florida are not investigating?" he asked. "Why are we sure that they're not on top of it?" They are black law enforcement authorities and officials, he added, that are very concerned about this case. "The idea that Al Sharpton or the Congressional Black Caucus needs to yell and scream for the law enforcement authorities to do their job, I find offensive."
Elder described Zimmerman as a "neighborhood watch captain concerned about crime" (some outlets, like ABC.com, are now emphasizing that Zimmerman's post had been "self-appointed"), characterizing his much-analyzed comment to a 911 dispatcher that "they always get away" as testament to his frustration concerning crime.
"Let's make the case the other way, Larry," host Steve Edwards interjected, "First of all, you often talk about the 'race card' being played too often. Sometimes it's not a card, sometimes it's a racial situation — even you would acknowledge that. Here in this situation you have a guy — Zimmerman — 28 years old, he's a member of the volunteer watch, it's a neighborhood watch that's not official with the other neighborhood watches. He's obviously, it seems to me, to be a guy who loves to be on the prowl, looking for trouble…"
"-Or," said Elder, "he's a guy who's trying to make sure that crime goes down in his neighborhood."
The takeaway for Elder, as he shared, was that — while it was unequivocally a "bad shooting" – this is ultimately a civil matter, not a criminal one.
Have a look:
Have a tip we should know? tips@mediaite.com