Lowry Deserves Suspension for Poor Taste, Timing of Trump 'Cut His Balls Off' Comment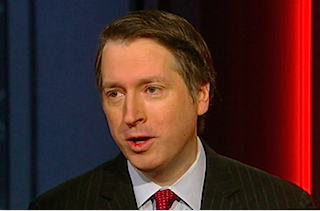 "She cut his balls off with the precision of a surgeon!"
Yup…this is what passes for sound analysis on cable news these days. The aforementioned sentence is courtesy of Rich Lowry of National Review, who likely practiced that line in a mirror a few dozens times before attempting to make a funny on Fox News' The Kelly File on Wednesday night while offering his take on Carly Fiorina's debate performance against Donald Trump.
Lowry is a currently a Fox News contributor. He should also be a suspended one for going way over the line in a calculated moment that wasn't something said in the heat of the moment or accidentally when misspeaking.
And look, language like that is prevalent on HBO shows like Real Time with Bill Maher, Last Week Tonight with John Oliver or any Comedy Central political satire show. I get it: Oftentimes a well-placed expletive or cutting (pun intended) metaphor can really make an impact when making an argument in these situations. But Fox is a news organization, just like CNN and MSNBC are.
And despite what some of the usual cynics below will tell you, there are standards at these networks. There is a bar. There are things you can say some things you simply cannot. In this case, Fiorina did dominate that debate and Trump as noted in this space. And yes, there were about 1000 analogies and metaphors to choose from that wouldn't have generated this kind of firestorm. But then Lowry goes after Trump's manhood in graphic fashion, and on Kelly's program of all places, no less. Talk about poor taste and timing…
Lowry — who has been doing pundit spots like this for years and knows exactly where that line is — knew this and came armed and ready to stir up some attention for himself on Twitter, get his name in the paper and draw a reaction from Trump. Well… congrats Rich, you did it! Twitter is aflutter with your balls statement in quotes with hashtags and everything. And Trump is currently in a Twitter war with you. #gimmeattention
If you're Fox brass, you just wrapped up a day when you stated that the thin-skinned Trump engages in "personal attacks on our anchors and hosts." That's correct, he does. Your 6 p.m. panel on Special Report concluded he was "childish." That's also accurate. But then just hours later on one of your top-rated programs — a program that has treated Trump fairly despite his obnoxious criticism of it — a paid contributor of the network engages in an utterly childish personal attack on Trump.
The high road gets wiped out the same day it was paved by the network. And worse, if you're Fox, Trump's accusations of being treated unfairly suddenly have merit while his demand for an apology will only grow louder.
So what will happen next? Logic says a suspension at the very least. But since Trump is persona non-grata at FNC, maybe this passes as an eye for an eye.
And that's just a whole bowl of wrong, because "cut his balls off" has no business on any cable news program regardless of whose body parts we're talking about.
[Photo via screengrab]
— —
>>Follow Joe Concha on Twitter @JoeConchaTV
Have a tip we should know? tips@mediaite.com