Megyn Kelly Grills Louie Gohmert: Why Not Let Obamacare Implode So You Benefit in 2014?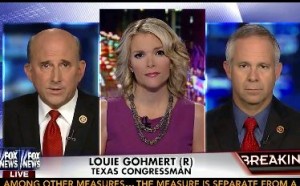 Megyn Kelly talked with Republican congressmen Louie Gohmert and Tim Huelskamp on Tuesday night over a potential new deal on the government shutdown and the Republican fight over Obamacare. Kelly asked both of them whether all this was worth it, or whether they would be better off just allowing the health care law to be implemented so it implodes and then they reap the political reward.
Kelly noted the issue for them now is whether they've "hurt the Republican party" with their relentless railing against Obamacare. Huelskamp lamented the lack of helpfulness from Senate Republicans, while Gohmert simply said, "There's no statute of limitations on doing what's right."
Gohmert continued that if Harry Reid got to say "no no no no no" on everything they proposed, they're not simply going to accept whatever the Senate comes up with. Kelly offered them this potential scenario to let things play out for the next year.
"If Obamacare is imploding, stay out of it, let it implode, then you guys are going into 2014 and making the case to the American people that this is a bad law."
Gohmert said the whole point of this fight in the first place was to draw people's focus to the health care law. Both he and Huelskamp doubted that John Boehner's leadership would be in any kind of peril if he allows a Senate bill to be passed in the House with the help of Democrats.
Watch the video below, via Fox News:
[photo via screengrab]
— —
Follow Josh Feldman on Twitter: @feldmaniac
Have a tip we should know? tips@mediaite.com
Josh Feldman - Senior Editor