Megyn Kelly Tears Into Obama Spokesman For Calling Romney A 'Liar' Despite Promises For 'No Vitriol'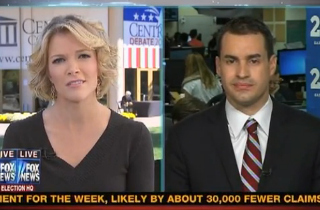 On today's edition of America Live, host Megyn Kelly confronted Obama campaign spokesman Ben LaBolt over their painting Mitt Romney as a "liar" despite once promising to have a national conversation "without vitriol."
Kelly played a clip of President Barack Obama telling the press, after being called a liar by Rep. Joe Wilson, that "we have to get to the point where we can have a conversation about big important issues that matter to the American people without vitriol, without name calling, without the assumptions of the worst in other people's motives."
Kelly then pointedly asked LaBolt: "What happened to that message?"
The spokesman's answer was seemingly insufficient, as Kelly interrupted him: "I'm asking you what happened to that message. I want to talk to you about the vice presidential debate but I don't want you to spin. I want you to answer my question. My viewers will say let's have an answer to the question. The question is: President Obama said no vitriol, no name calling. Let's have an honest conversation without questioning a man's character. Yet Stephanie Cutter and all those people you have just saw called Mitt Romney a liar. What happened to President Obama's commitment to no name calling and no character attacks?"
"The fact is 28 days before election day Mitt Romney has suddenly decided to try to hide the policies he's been advocating for the last six years," LaBolt responded. "Last week on the debate stage he pretended not to know anything about the central message of his economic policy. If you have a preexisting condition he wasn't honest about the impact of his policies on you."
"What I hear you saying is it's okay for the president to go back on that commitment through this team and surrogates and others because, in your view, Mitt Romney is a liar," Kelly said. "You are saying it's justified because you believe it?"
"I don't think our goal here is to name call," the spokesman replied. "I think our goal here is to have an honest policy conversation. That's exactly what we are in the process of doing."
Kelly then confronted LaBolt with video of him telling Fox News in the aftermath of the Benghazi attacks that Romney shot first and aimed later in his accusations over the administration's handling of the violence. At the time, the spokesman emphasized that the president would do no such thing.
"In the wake of the testimony we heard on Capitol Hill about how this was a preplanned attack on our embassy, on our consulate in Libya, and it didn't have to do with the video — directly contrary to what this administration told us in the days after this attack — didn't you shoot first and aim later?" asked Kelly.
"I don't think so," responded LaBolt, before explaining that he believes the intelligence information came in gradually and, over time, allowed for a clearer view of what exactly caused the various riots across the Middle East.
Watch the interview below, via Fox News:
— —
>>
Follow Andrew Kirell (@AndrewKirell) on Twitter
Have a tip we should know? tips@mediaite.com