Alternate title: "Santorum? I barely know him!"
Republican candidate Mitt Romney has acquired a Santorum-esque "Google problem" of his own, and while Romney's isn't quite as vulgar as the frothy former Pennsylvania Senator's, it's also funnier, in a way, because Romney literally brought it on himself. A Google Images search of the term "completely wrong" yields page after page of Romney photos (go ahead, try it), and to add insult to injury, has now become weirdly self-perpetuating.
Former Pennsylvania Senator Rick Santorum's "Google problem" was the result of activist Dan Savage's deliberate campaign to redefine the Senator's last name, as a rejoinder to Santorum's opposition to gay rights.
A Google spokeswoman told FoxNews.com that Romney's Google problem isn't something the company can "fix" — labeling it instead a "natural" effect of the algorithm. After secret video was released of the candidate saying he "didn't have to worry about" 47 percent of the population, Romney used the phrase to describe his off-the-cuff comments.

"Clearly in a campaign, with hundreds if not thousands of speeches and question-and-answer sessions, now and then you're going to say something that doesn't come out right," Romney told Fox News host Sean Hannity. "In this case, I said something that's just completely wrong."

Numerous stories building off that comment have "organically" linked his image and the phrase, it seems — rather than malicious efforts to smear his name. In contrast, the 2007 Google bomb that returned U.S. President George W. Bush as a result of searches for "miserable failure" was a malicious prank. Google did fix that.
It's tempting to stop laughing, because something like this could happen to anybody, but the punchline is too good. Now, thanks to this story, the search "completely wrong" returns page after page of Romney pictures, most of which are now screenshots of Google Image searches for "completely wrong" that feature pictures of Mitt Romney. Land O'Lakes!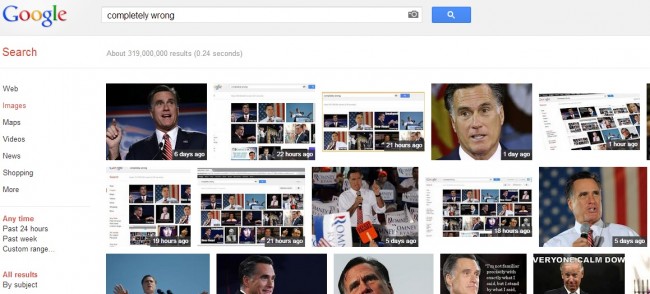 Follow Tommy Christopher (@TommyXtopher) on Twitter.
Have a tip we should know? tips@mediaite.com