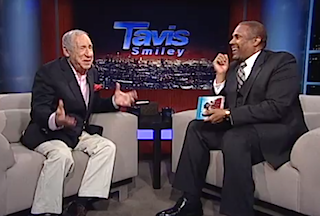 Comic legend Mel Brooks sat down for an interview with PBS' Tavis Smiley that's set to air later this week, and in a preview released Wednesday, the two men discuss how Brooks was able to get away with characters using the "n-word" in a film like Blazing Saddles, and how much harder it would be do the same thing — in the name of comedy — today.
It helped that Brooks had Richard Pryor working as a writer on the film, which centers on an old Western town that hires a black sheriff. As he explained to Smiley, he would simply ask Pryor in each instance if he thought it would be OK to use the word and each time, Pryor would say "you must" and "you have to" in response. "There wasn't one time I asked Richard, 'can I use it' that he said" no, Brooks said.
When Smiley asked Brooks if he really believed the film could not be made today because of "political correctness," he said he does believe that to be true. "Political correctness restricts and restrains humor," he said. "Humor has to be very crazy and very free and very liberated. And dangerous!"
As another example, Brooks pointed to his famous song "Springtime for Hitler" from The Producers, which has angered a lot of Jews over the years. He said he got more hate mail about that film/Broadway show than any other project he's done over the years. And to every person he wrote a letter explaining why it's so important to make fun of Hitler.
Brooks said he always knew he'd "catch hell" for the subject he was choosing to mock, but he did it anyway.
Watch video below, via PBS:
[Photo via screengrab]
— —
>> Follow Matt Wilstein (@TheMattWilstein) on Twitter
Have a tip we should know? tips@mediaite.com