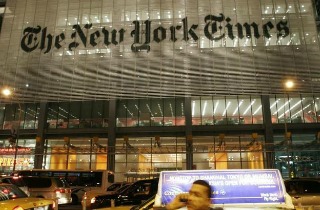 On Wednesday, the New York Times announced that the paper's executive editor, Jill Abramson, was stepping down from her position. Subsequent reporting alleged that The New York Times Company publisher and chairman Arthur Sulzberger pushed for Abramson to depart from her role at the company. Some even considered her "condescending and combative," POLITICO's Dylan Byers reported.
A report in the New Yorker on Wednesday opened up new questions about Abramson's decision to leave the paper. The report alleges that Abramson was considered "pushy" after she discovered that she was making "considerably less" than her male counterparts.
RELATED: Jill Abramson Stepping Down from New York Times as Executive Editor
"Several weeks ago, I'm told, Abramson discovered that her pay and her pension benefits as both executive editor and, before that, as managing editor were considerably less than the pay and pension benefits of Bill Keller, the male editor whom she replaced in both jobs," the New Yorker's Ken Auletta revealed.
"She confronted the top brass," one close associate said, and this may have fed into the management's narrative that she was "pushy," a characterization that, for many, has an inescapably gendered aspect.
Auletta reported that the pay gap between Abramson and Keller "has since been closed," but the incident "brings up ugly memories" for a paper that was once sued by it's female employees for discrimination.
UPDATE: Politico's Byers reports on Wednesday that the New York Times denies that Keller was paid less than Abramson. "Jill's total compensation as executive editor was not less than Bill Keller's, so that is just incorrect," NYT spokesperson Eileen Murphy told Byers. "Her pension benefit, like all Times employees, is based on her years of service and compensation. The pension benefit was frozen in 2009."
[Image via Reuters Photographer/Reuters]
— —
>> Follow Noah Rothman (@NoahCRothman) on Twitter
Have a tip we should know? tips@mediaite.com