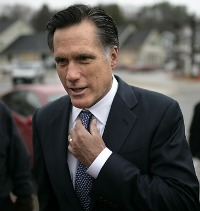 In an interview with the New Hampshire Union-Leader, which was broadcast in full on CSPAN, Mitt Romney argued that audience moderation — a point of particular interest this campaign season — is not a part of his job as a presidential hopeful. "I haven't made it my practice to listen to the cheers and the views and then to try and correct the people on their expressions of their views," he said, arguing that he would stay his line and let all voices, disagreeable and not, be heard.
Referencing GOP debate crowd's applauding for executions in Texas and booing of a gay soldier, he carefully explained that "I would tell you that in these debates there's been a lot of booing, and a lot of applause, some of which I do not agree with," but, "I haven't stepped in to try and say this one's right and this one's wrong, instead I focus on the things I think I ought to say."
This distinguishes Romney from Rick Santorum — who initially said he "did not hear those boo's" — and Jon Huntsman, both of whom condemned the boo-ers after the fact, as well as Herman Cain, who recently suggested that he should have said something while still on stage.
Romney says he understands where Cain is coming from, but insists that he won't get involved. "I don't know that cheering for executions is something that I would agree with either, but I don't raise my hand and say, 'Please, let me talk, I want to tell everyone you shouldn't be cheering,'" he quipped.
Watch the full clip below:

h/t Breitbart.tv
Have a tip we should know? tips@mediaite.com