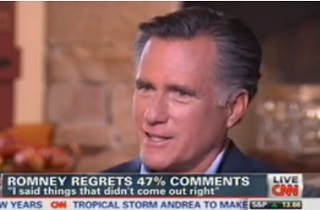 Former Massachusetts Governor Mitt Romney (R-Winterfell) not only lost the 2012 presidential election, he lost the state of New Jersey by seventeen points, and New York by twenty-six. Ever the good sport, though, Gov. Romney made it clear, in an interview with CNN's Gloria Borger, that there are no hard feelings, and that he even wishes that deadly Hurricane Sandy had never happened… to him.
Perhaps I'm being unfair. Borger played a brief clip of Romney's infamous "47%" remarks, and asked him "Do you look back on that and say that that hurt the party?"
Romney hemmed a little, explained how it was "a statement that was, of course, not a statement," (of course!) and that "it didn't come out the way I wanted it to."
"But surely, that didn't help me," Romney said. "And there were other things that didn't help my campaign, either. Obviously a hurricane with a week to go before the election stalled our campaign."
Borger asked Romney if he blamed Chris Christie, as many Republicans did.
"No, no, no… No. No, no," Romney said. "I — I wish the hurricane hadn't have happened…"
See? That's a nice thing to say, if a little obvious. I mean, who wants a hurricane to happen?
"…when it did," Romney continued, "because it gave the President a chance to be presidential, and to be out showing sympathy for folks. That's one of the advantages of incumbency."
Surely, he realized what he was saying, and quickly corrected himself, taking the full measure of this enormous tragedy, the hundreds killed, the thousands displaced, the homes destroyed.
"But, you know, you don't look back and worry about each little thing, and how could that have been different," Romney continued. "You look forward."
Ah, yes, the little things. The music of songbirds, the fragrance of autumn leaves, a 50-foot yacht on your roof.
Mitt Romney gave one of the classiest concession speeches in memory, and should have just stopped talking at that point. If there's any saving grace to be found, it's that everyone who cares what Mitt Romney says was sitting next to him during that interview.
Here's the clip, from CNN's The Lead with Jake Tapper:

Have a tip we should know? tips@mediaite.com