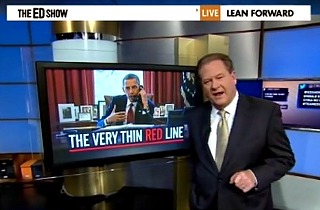 With the push for intervention in Syria stalling momentarily as the international community debates the appropriateness of attempting to halt that country's civil war, MSNBC host Ed Schultz told his audience today that he thinks President Barack Obama is attempting to back off his "red line." Shultz said that he hopes Obama does not attack Syria, but blamed "neo-cons" for pushing for intervention in Syria and to be "the police officer of the world."

"I'm glad to see the President of the United States is backing away from his red line statement," Shultz said after playing a clip of Obama telling PBS hosts on Wednesday that his administration was consulting with international allies regarding the best course for intervention in Syria.
"We have to be fair about this," Schultz continued. "We do have a history of presidents misspeaking, and we need to give him some room here."
RELATED: Before Striking Syria, Obama Should Follow Bush's Lead
Schultz said that, if the president attacks Syria, he will need the approval of the Congress. "Because the political climate in this country could get even nastier than it is right now," he added.
"Once again the neocons are expecting our country to be the police officer of the world," Schultz said. "You know, I'd would rather have a president put his foot in his mouth than a boot on the ground where it doesn't belong and will get us in trouble for a long, long time."
On Wednesday, Schultz's show sent out a tweet asking his audience for their opinions on the prospect of intervention as "conservatives push for war in Syria."

Watch the clip below via MSNBC:
—
> >Follow Noah Rothman (@NoahCRothman) on Twitter
Have a tip we should know? [email protected]