NBC Execs Defend Matt Lauer After Thanksgiving Coverage Criticism, Point To 'Misdirected Anger'
NBC Execs Defend Matt Lauer After Thanksgiving Coverage Criticism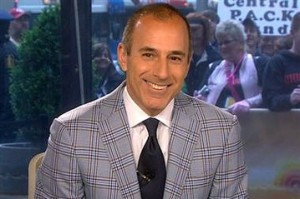 Today Show host Matt Lauer received some harsh feedback via Twitter when he hosted the Macy's Thanksgiving Day parade — on top of the negative sentiment he's faced following Ann Curry's departure from the show. In Howard Kurtz's new article on The Daily Beast, NBC executives — including NBC News President Steve Capus — came to Lauer's defense.
RELATED: NBC Viewers Trash Matt Lauer For Thanksgiving Parade Hosting Performance
"Sadly," Capus said, "this is the era in which we live: Venomous tweets somehow threaten to drown out all of those who praised Matt for his coverage."
He went on to add: "The Twitter snarkiness is an unfortunate result of misdirected anger that's been unfairly placed on Matt. There has also been a lot of mean-spirited piling-on, which has been manufactured by many anonymous sources."
The article further highlighted network executives' response to the blame directed toward Lauer following Curry's messy exit from the show. "Matt had nothing to do with Ann's reassignment," Capus said. "He does not make those types of decisions. There has been an incredible amount of misplaced blame on Matt."
Per The Daily Beast:
"The whole Ann transition really hurt us," an NBC executive says. Lauer "was one of the few people who fought to do the transition in a different way—to take our time with it and not do it so rushed right before the Olympics. He wanted to do right by her, and we really didn't."
[…]
[Capus] adds: "If Matt is to blame for the ratings slippage then, is he the only one who gets credit for the two months of steady ratings gains we've enjoyed? It's always a team effort. As I have said repeatedly, he is one of, if not the best, morning show hosts in the history of that genre. We are lucky to have him."
Kurtz noted that Lauer won't be going anywhere any time soon — "but in this Thanksgiving season, his detractors are enjoying kicking the stuffing out of him."
Read Kurtz's full report over at The Daily Beast.
Have a tip we should know? tips@mediaite.com