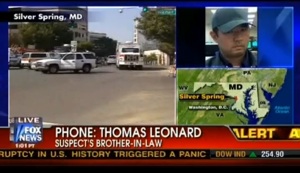 Now that the Discovery Channel hostage crisis has apparently ended, the question that remains will be who is James Lee and why did he do what he did? A short while ago, while the crisis was still ongoing, Neil Cavuto scored an exclusive interview for Fox News with Thomas Leonard, the gun man's brother in law. Leonard described the news this morning as "surprising" and "heartbreaking" but that the family had been concerned about the "disturbed" Lee before this event.
Through his obvious grief, Leonard (whose wife is Lee's brother) explained over the phone how the man's erratic and "hurtful" behavior had alienated him from much of the family. He said that Lee had become a "darker type of character" partly after the death of some family members. He also explained that Lee had contacted his sister recently in an attempt to scam she and Leonard out of money.
"He reached out to my wife a few years back and claimed to have had a life threatening illness…it turned out to be a scam. He was fishing for money. In fact, I believe he wound up using some of that money to finance whatever this protest was that occurred several years ago where he was arrested and what not."
Everything Leonard said seemed to come through tears and one could tell the way he said many would view the family as "naive" that they all must be dealing with some tremendous feelings of guilt right now. In situations like this, one's feelings always go out to the victims (fortunately, the statements at this point seem to imply that no one was seriously injured) and their families, however, we can't forget that the agony that Lee's family is feeling is truly unspeakable as well. This heartbreaking interview made that clear.
Watch the entire interview below:
Have a tip we should know? tips@mediaite.com