Netanyahu Reverses Course on 'Two-State Solution' in Post-Election Interview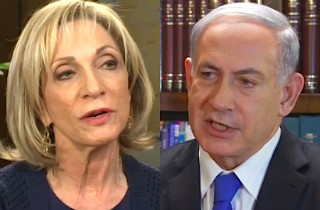 On the eve of his re-election as Israeli prime minister, Benjamin Netanyahu made news by confirming in an interview that he would not support the creation of a separate Palestinian state, despite previously endorsing the idea of a two-state solution. Now, just two days after achieving victory in his close race, Netanyahu appears to have reversed his position once again in an interview with MSNBC's Andrea Mitchell.
"I haven't changed my policy," Netanyahu told Mitchell on Thursday, saying he still supports "a demilitarized Palestinian state that recognizes the Jewish state." He added, "I don't want a one-state solution. I want a sustainable, peaceful, two-state solution. But for that, circumstances have to change."
Mitchell challenged Netanyahu, saying that in the view of the White House, he was "re-elected on a mandate against a two-state solution" and that the Obama Adminstration is "strongly considering" a policy in which it would not stop the United Nations from conferring statehood on Palestine.
Netanyahu warned that if that happened, it would "become a terrorist state" armed by Iran and said "you can't impose peace" on the region.
RELATED: Benjamin Netanayhu to NBC News: I'm Not Racist
The prime minister also used the NBC interview to tone down his controversial rhetoric regarding Arab-Israeli citizens, which some in Israel and the U.S. described as a "racist" attempt to drum up support among his right-wing base. "I am very proud to be the prime minister of all Israeli citizens — Arab and Jews alike," he said.
"That's not the way it sounded on Election Day," Mitchell replied.
Watch the full interview below, via MSNBC:
[Photo via screengrab]
— —
>> Follow Matt Wilstein (@TheMattWilstein) on Twitter
Have a tip we should know? tips@mediaite.com