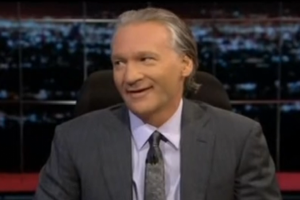 To Bill Maher, nothing is sacred. And while he spent most of his career proving that by supporting those on his side of the aisle, last night he took some time to criticize public officials he has vocally supported, including the recently-deceased Ted Kennedy. Maher is "really mad" at the way the Obama administration has handled the Gulf of Mexico oil spill, and refused to let go Kennedy's resistance to wind energy just because he was no longer alive.
In particular, it seems a quote from President Obama a few weeks ago assuring that most oil exploration is environmentally sound enraged Maher the most, reading the quote and noting that "if I was quoting George Bush, this crowd would be laughing in hysterics." Maher is not alone in his outrage towards the administration on the oil spill, or his comparison of Obama to Bush (the NYT published an editorial yesterday suggesting the federal government's delay has worsened the situation), but concern and outrage at Maher's level from the left side of the aisle has not been common. While he understood the need to compromise with Republicans, he saw the decision to expand offshore drilling efforts as too much of one.
When Chris Matthews suggested the type of wind energy harnessing currently in use off the coast of Massachusetts, fellow panelist Ross Douthat reminded him that the construction took close to a decade because of Senator Kennedy's opposition, criticism to which Matthews objected. Maher, surprisingly, sided with Douthat, and replied "he was wrong dead and he was wrong alive."
Matthews already seemed to take personal offense at this point, but his face fell when Maher took the opportunity to reference Kennedy's car crash in Chappaquiddick. "There are certain things that are unforgivable," Maher explained. "One is what Roman Polanski did, and one is what Teddy Kennedy did." Only about half of the audience laughed awkwardly at the attack.
Watch the clip below:

Have a tip we should know? tips@mediaite.com