Obama Says Slamming the Door to Syrian Refugees 'Would Be a Betrayal of Our Values'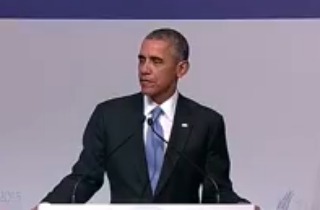 During his G20 speech on the Paris attacks today, President Obama got defensive on recent criticisms he received for saying that ISIS activity had been "contained," as well as for whether he underestimated the threat posed by ISIS. One issue that was prominently featured was whether America should reconsider allowing refugees into the country when at least some of the terrorists entered Europe while posing as fleeing Syrians.
As he took questions, Obama reminded the audience that not all of the refugee groups have a terrorist hiding in their midst, and that these people were often fleeing acts of terror in their own countries.
"Slamming the door in their faces would be a betrayal of our value," Obama said. "Our nations can welcome refugees who are desperately seeking safety, and ensure our own security. We can and must do both."
Obama continued on with this point later by saying that refugee families were often the most heavily affected by terrorism and that America should not "close our hearts" to these victims. He continued to say that America has a moral obligation to follow the example of other countries on this matter, and also blasted the calls of his critics for a "religious test" to exclude Muslim refugees in favor of Christians.
"That's shameful. That's not American. We don't have religious tests to our compassion," Obama said. "I think it is very important for us right now, particularly those who are in leadership, not to fall into that trap."
Obama's remarks were met soon after with significant criticism from Fox's Bill Hemmer, saying that Obama generally used his speech to accept evil in the world, and to say that he would not change his anti-ISIS strategy in response to the attacks
Watch above, via CNN.
[Image via screengrab]
— —
>> Follow Ken Meyer (@KenMeyer91) on Twitter
Have a tip we should know? tips@mediaite.com