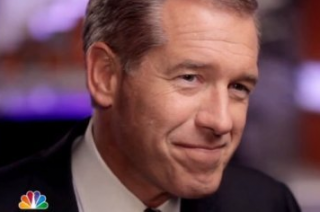 In December of 2012, I wrote a piece entitled "Stop Blaming Matt Lauer for NBC Woes" in which I defended Matt from a myriad of accusations, allegations and blame levied against him in the wake of Good Morning America (who employ me) taking over as the number-one rated morning show. I made the pretty unpopular point that "scapegoating rich, successful Matt may be easy but that doesn't mean it's fair or accurate." I was almost uniformly assailed at a time when few outside of NBC were in the mood to hear it.
Am I preparing to do the same for Brian Williams here? No. But I'm also not prepared to overlook all the valuable work he's done by pronouncing today, that he ought to receive a journalistic death sentence either.
I worked extensively with both Matt and Brian at NBC for a long period of time and had nothing but positive experiences with, and enormous respect for, both of them. But the situation with Brian is entirely different than the media pile-on Matt endured with stories about alleged behind-the scenes-conflict. Many writers and pundits used that gossip and innuendo to start publicly questioning whether Matt was even any good at what he does. I felt that was incredibly unfair and argued that "Matt's tone, transitions, questions, innate sensibility about when to push in an interview and when to back off" had long made him an ideal morning show host.
Like Matt, Brian is a truly talented network news anchor, but this isn't about whether he is "good" or "talented" it is about whether he still has the credibility to continue to lead a major news organization. Whether he embellished the story about being hit by enemy fire in 2003, exaggerated, "conflated," or just flat-out lied, this is a big deal. Actually watching his 2013 Letterman appearance may be even more damning than just reading the words and it is entirely justifiable to scrutinize his apology to evaluate whether even that was disingenuous.
With that said, I am troubled by the fervor, occasional glee, and potentially disproportionate fury emanating from an unusual assortment of allies now determined to end Brian's storied career based on what we know today. This alliance of certain capital-J journalists, conservative bloggers, and some who simply despise any rich and famous journalist are a formidable force. In a poll which received more than 13,000 responses, Mediaite readers overwhelmingly felt that he should be fired. I voted no… for now.
Let me be clear, if it can be proven that Brian fabricated or "misremembered" important anecdotes or reporting from another news story like Katrina or Israel, as some have suggested, he can not and should not continue in that role. That would mean he did not just conflate two stories over time, but that he has some degree of difficulty not embellishing stories. Period. Those seeking to oust him have no fear — the New York Post, among others, will be examining all of his past statements like an opposing attorney preparing for a cross examination of the defendant.
If, however, time shows that it was just this story, then that is a very different matter. The fact that he did not report this tale of being fired upon on NBC News at the time matters. It does not absolve him, but it matters. It is true that the more times he recounted specific, invented details the harder it becomes to defend, but NBC (with his assent) could still do something draconian and humbling, as Professor Jay Rosen suggested, like having him report out the truth of the 2003 story himself by interviewing those veterans who were there. That could serve to clear the air and pave the way for his return. The broader point is that the rest of his career is relevant. He has long been recognized as an award winning anchor, reporter and leader at NBC News and at the least, he deserves a presumptive cushion for that work.
I agree with Peter Lauria who wrote in the Hollywood Reporter that Brian may be a larger target because he courted celebrity with a variety of appearances and cameos and "there's nothing the public likes more than watching a celebrity slowly and painfully fall from grace." But WIlliams' success at demonstrating talent (and he has many) beyond that of just a newsman should also help explain why he has been so successful at what he does. Purists will shudder at this suggestion, but this is a different era of news where the public want, even demand, to know their anchors. . . personally. If this had all happened to Scott Pelley for example, this never would have received anything like this sort of attention.
​The problem for Brian is that unlike an opinionated cable news host who might have an army of like-minded supporters prepared to fight the social media war, a network news anchor's support these days is inevitably going to be far less passionate, even for Brian. They may like and appreciate him but few are going to be prepared to do "battle" for him and so it's hardly surprising that he is generally being skewered by the social media masses. For social media influencers, "sharing means caring" with fans who feel a far more personal stake in any outcome. Evening news anchors, on the other hand, are still effectively anointed as a face of the network and supposed to remain above the fray.
I may change my vote down the road but for now while I am not willing to presume Brian innocent, I am prepared to afford him serious credit for the totality of his career.
Oh, and to those on the political right calling for his head, I wouldn't be surprised if he votes Republican. I have absolutely nothing to support that prediction, it's just a guess. Alas, that is part of the problem for Brian Williams today. The public knows him, but not really.
— —
Have a tip we should know? tips@mediaite.com