'Oh Really, What Am I?': CNN's Ana Navarro Shuts Down Man Who Says She's Not Latina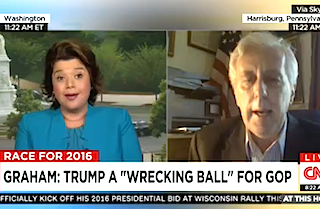 Republican strategist and CNN commentator Ana Navarro has been among Donald Trump's harshest critics from the right over the past couple of weeks. And on Monday, she found herself in an intense head-to-head debate with Trump defender Jeffrey Lord of The American Spectator. But things really went off the rails when Lord told Navarro that she's not a real Latina.
When Lord accused Navarro of "hedging" on issues like sanctuary cities that Trump has made a focus of his campaign, she fired back, "Which part am I hedging on? Go ahead and do your entire Trump thing, but leave me the heck out of it. Do me that favor, will you?"
Lord went on to tell Navarro that the GOP establishment tends to "paternalize" Latinos, "who came here legally, who did the right thing" and are now "being insulted here by the Republican Party."
"Thank you for telling me what should be insulting," Navarro responded as Lord attempted to talk over her. "But see, I'm one of those Latinos that came here with a visa on a plane, that went through a process. And no, I don't think the Republican Party is being paternalistic. I don't find Marco Rubio, I don't find Jeb Bush paternalistic. So thank you for lecturing me on what I should be feeling about the Republican Party as a Latino."
"I don't think you're a Latino," Lord informed Navarro. "I think you're an American just like me."
"Oh really, what am I? What do you think I am?" she shot back, before telling Lord what she believes herself to be. "I am an American and America is my home," she said. "I am an American who was born in Nicaragua and was naturalized under Ronald Reagan's amnesty. So now that you've lectured me on how I should feel as a Republican, now that you've lectured me on what I'm hedging about, and now that you've lectured me about what I am, do you have an actual point?"
Throughout all of this, hosts John Berman and Kate Bolduan simply sat back and enjoyed the show.
When Lord then asked Navarro, "Are you not an American?" she answered with a question of her own: "Did I not just say I'm an American citizen?!"
But Lord, who was the first to bring up the "Latinos" who were being talked down to by Republicans, did not let up, telling Navarro, "There are no Latinos in this country, there are no African-Americans. We are all Americans."
Watch video below, via CNN:
[Photo via screengrab]
— —
>> Follow Matt Wilstein (@TheMattWilstein) on Twitter
Have a tip we should know? [email protected]