O'Reilly Goes Bonkers on Ex-CBS Colleague and David Corn: 'Apparatchik' Trying to Take Me Down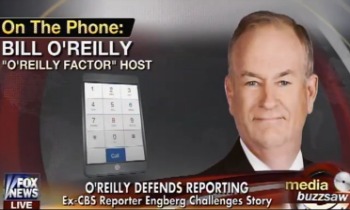 After the Bill O'Reilly war reporting controversy has grown a new set of legs thanks to an ex-CBS colleague's comments, the Factor himself phoned into Fox's MediaBuzz on Sunday. And, man, was he unhappy.
In a Facebook post, former CBS correspondent Eric Engberg disputed the nature of the riots in Buenos Aires, Argentina, that O'Reilly witnessed while reporting on the 1982 war.
Asked by Fox host Howard Kurtz about Engberg disputing there was ever any gunfire during the protests, O'Reilly claimed the former CBS reporter should check the New York Times' reporting from the time, which characterized police as having fired shots.
And when Kurtz mentioned that Engberg disputes O'Reilly's story that a CBS photographer sustained injuries, the Factor host suggested perhaps his former colleague wasn't at the protests at all, but was holed up in the hotel: "I'd like everyone to ask him, 'Were you there?' because his reputation was 'Room Service Eric,' because he never left the hotel." Ouch.
O'Reilly became increasingly irate during the interview, especially when the conversation turned to Mother Jones editor David Corn, who first wrote the allegations. The Fox host accused Corn of being politically and personally motived to make such attacks. "Why does he have credibility anywhere?" O'Reilly shouted. "Why would CNN or anybody else taking anything he says seriously?"
Kurtz responded, with a chuckle, that Corn is a respected Washington reporter with a long history of successful stories. O'Reilly then went on a rant about how the Mother Jones icon is an "apparatchik" for liberal forces that would like to take him down.
Watch the full interview below, via Fox News:
UPDATE — 06:49 p.m. ET: We received the following statement from Fox News:
Chairman & CEO Roger Ailes and all senior management are in full support of Bill O'Reilly.
— —
>> Follow Andrew Kirell (@AndrewKirell) on Twitter
Have a tip we should know? [email protected]