Paul Krugman Slams Jon Stewart's Mockery Of Trillion-Dollar Coin: 'He's Ruining His Own Brand'
Krugman Slams Stewart's Mockery Of Trillion-Dollar Coin: 'He's Ruining His Brand'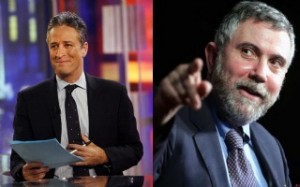 The trillion-dollar coin officially isn't happening — but recently, there's been plenty of speculation and mockery of the proposal to go around. Among those poking fun was Jon Stewart, who didn't quite seem to think the idea has any real merit. The New York Times' Paul Krugman, who's discussed the coin, wasn't pleased.
Noting that we seem to just be "[making] shit up," Stewart was rather dismissive of the idea on his show (video below). Krugman disagreed with the approach, criticizing the Daily Show host, in a blog post, for "intellectual laziness."
"It is a funny thing. But you want to be funny from a point of view of understanding what the issues are," Krugman said. "Obviously neither he nor his staff did even five minutes of looking at the financial blogs. Lots of people think it's a bad idea. Lots of people think it's a good idea. But it's not just, 'Oh, those idiots.'"
He continued:
"Part of the point about Stewart…is that he's funny, but that the show is actually better informed than most of our public discussion. The idea is that the show should be like an especially good episode of the roundtable on This Week, but in the form of jokes. But when he just turns it into dumb, 'I don't know nothing, but those people look dumb to me,' he's ruining his own brand."
In the aforementioned blog post, Krugman pointed to a lack of professionalism on Stewart's and his staff's part — in terms of researching the issue. The Daily Show is funny and effective because the show's people have done their homework, he argued.
Because, "hey, if we want this kind of intellectual laziness, we can just tune in to Fox."
Krugman's remarks below, via ABC:

And here's the Jon Stewart segment in question, via Comedy Central:
Have a tip we should know? [email protected]