Piers Morgan Continues Sniping at Anderson Cooper: He's 'Not Really What CNN Needs'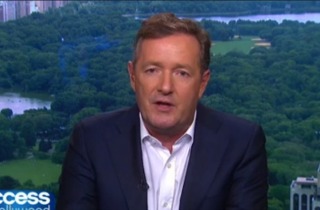 Finally free from his CNN contract, Piers Morgan is making the media rounds to tout his new job as an editor at the Daily Mail and express how badly he wants another shot at a TV career in the U.S. He's also letting it be known that he doesn't like Anderson Cooper and never really has.
In a new interview with Access Hollywood, Morgan was asked to elaborate on a recent comment wherein he blamed his former lead-in from Cooper for his now-canceled show's dismal ratings.
"I don't get on that well with Anderson, never had that much to do with Anderson," Morgan said. "There's a kind of healthy rivalry at CNN between many of the anchors and we were not cut from the same cloth by any means. So, I think there was a slight tension there anyway."
Morgan went on to say CNN excels in ratings when there are big, sensational breaking news stories, like the Boston Marathon bombing in 2013 but that ratings "tank" during slower news cycles. He then continued to slight Cooper, despite saying that's not what his intention was.
"It's not to denigrate Anderson who is a very, very good field reporter. But to me as a studio star, he's not really what CNN needs. They need people like a Bill O'Reilly, a Megyn Kelly, a Rachel Maddow. People like that who are such commanding personalities on screen that they bring with them a big audience. I think then everything gets helped."
To date, Cooper has not publicly replied to Morgan's barbs.
Watch via Access Hollywood:
[Photo via Access Hollywood]
— —
>> Follow Eddie Scarry (@eScarry) on Twitter
Have a tip we should know? tips@mediaite.com