Piers Morgan Deems Rep. Akin 'Gutless Little Twerp' For Skipping Scheduled Interview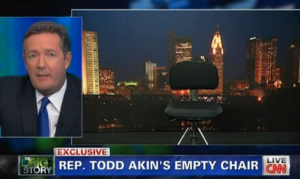 Following Rep. Todd Akin's recent controversy, Piers Morgan's team took to Twitter to let us know that they'd booked Akin to appear live on Monday night's show. Opening the show with a shot of an empty chair, Morgan said Akin pulled out the scheduled interview last minute.
Earlier, Democratic Sen. Claire McCaskill was scheduled to appear on the show but canceled, Morgan said. Then, he said, Akin did the same, "at the last possible moment, leaving us and you looking at an empty chair. It's a very nice empty chair, but it remains an empty chair."
Morgan then extended an open invitation to the candidate:
Congressman, you have an open invitation to join me in that chair whenever you feel up to it. Because if you don't keep your promise to appear on the show, then you are, what we would call in Britain, a gutless little twerp.
He digressed, turning instead to Rep. Jan Schakowsky, who said, Akin and Paul Ryan "like two peas in a pod, have endorsed the same legislation, that would limit women's rights to access to contraception. That would make even rape and incest not reasons for having an abortion."
Agreeing, Morgan pointed to that as Romney's big problem, calling the Ryan pick Romney's "worst nightmare." Said Morgan:
It's gone right back to the social conservative issues he was so desperate to move off on. And the reason he's so desperate to move off is that on abortion, for example, he has carried out one of the great flip-flops in political history.
Meanwhile, a small box in the corner of the screen remained focused on the empty chair, reminding us of Akin's absence.
Take a look, via CNN:

Have a tip we should know? tips@mediaite.com