Podhoretz: Media Covered Bridgegate More Than IRS Because They Have 'Friends' in WH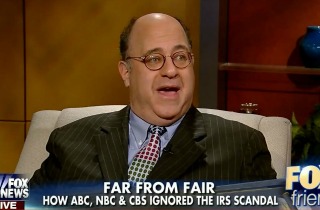 The press focused on New Jersey Gov. Chris Christie's bridge closure controversy 17 times more than the IRS scandal in the past six months because the political media has "friends" in the Obama White House, said New York Post columnist and Commentary Magazine editor John Podhoretz on Fox & Friends Monday morning. He said that, because the media knows the members of the Obama administration personally and does not know Christie's aides as well, they can more easily envision New Jersey officials engaging in malfeasance.

Podhoretz began by calling the George Washington Bridge lane closures controversy "perfect" because the public is familiar with traffic and the idea that the government would "impose" traffic on the public for political reasons is both easy to comprehend and likely to generate a backlash.
RELATED: Chris Christie Responds to 'Bridge-Gate' Allegations: 'I'm Outraged' to Learn 'I Was Misled'
However, he added a recent report showed that the major broadcast networks gave 17 times more coverage to the bridge issue than the IRS, which is a similarly "perfect" controversy in terms of audience comprehension and frustration.
"My view is that, for the Washington press corps, the Obamas, the people who work in the Obama Administration are their friends," Podhoretz posited. "They're married to them. They work for them. They worked with them, and they don't believe that these people could do something that untoward."
"Whereas Christie — Republicans — they're people they don't know, they're people they don't like. They're people they don't associate with and socialize with," he continued. "So, it's much easier to believe that they would do bad things."
Watch the clip below, via Fox:
[Photo via screen grab]
— —
> >Follow Noah Rothman (@NoahCRothman) on Twitter
Have a tip we should know? tips@mediaite.com