President Obama To Jon Stewart: Americans Getting Killed In Libya Is 'Not Optimal'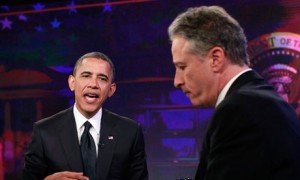 President Obama dropped by The Daily Show earlier today for an interview scheduled to air later tonight. One of the exchanges that has been already highlighted by news reports was Jon Stewart bringing up the attacks on the U.S. consulate in Benghazi and the administration's mixed responses to it. Obama told Stewart that "four Americans get[ting] killed… is not optimal," and pushed back on the idea that there was any confusion over the cause of the attacks.
RELATED: Jon Stewart Tears Into Obama Admin's Contradictory, Uncoordinated Response To Libya Attack
Stewart argued that the way the administration handled the issue was "not the optimal response." Obama acknowledged that it was "not optimal" for the attacks to happen in the first place and promised that he would take whatever steps he can to deal with the situation, saying that when "something screws up and you make sure you find out what's broken and you fix it."
Stewart also challenged the president on the differences in statements between himself, the administration, and the State Department, suggesting there may have been some confusion. Obama said that at no point was he "confused" about what the right course of action was, insisting the public statements being made were all based on what intelligence they knew at the time.
"When a tragic event like this happens on the other side of the world immediately a whole bunch of intelligence starts coming in and you try to piece together exactly what happens. And what have always tried to do is just get all the facts figure out what went wrong and make sure it doesn't happen again and we're still in that process now. But every piece of information that we got as we got it we laid it out for the American people, and the picture eventually gets fully filled in and we know how to prevent it in the future."
Obama also admitted in the interview that he still aims to close the prison at Guantanamo Bay, and ideally wants to "put a legal architecture in place" as well as "congressional help" to reign in the power of the president.
Watch below via Comedy Central:
h/t CBS News
[Image via]
—–
Follow Josh Feldman on Twitter: @feldmaniac
Have a tip we should know? tips@mediaite.com
Josh Feldman - Senior Editor