Q3 2014 Ratings: Fox News Notches Historic Primetime Victory over USA and ESPN
Fox News Notches Historic Primetime Victory over USA and ESPN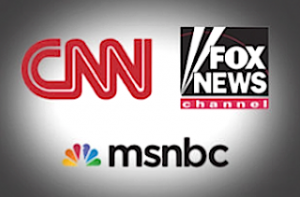 This summer turned out to be anything but slow for the media business, and it looks as though Fox News benefited the most from what turned out to be an onslaught of major news stories.
According to Nielsen ratings for the Q3 2014, Fox finished first among all cable networks (including the usual victors in ESPN and USA Network) for weekday total primetime viewership, both in the standard (8-11p) and extended (7-11p) windows.

This marks the first time Fox has bested all other networks in weekday extended primetime since it debuted in October 1996.
In those extended hours, for the quarter, Fox racked up an average of 2.01M viewers, besting USA's 1.86M and ESPN's 1.67M. Fox's big quarter also handily beat MSNBC and CNN, which averaged 654k and 573k, respectively (placing them 22rd and 26th among all cable nets).
Additionally, in seven-day primetime viewership for Q3, Fox remained victorious over its news competitors at MSNBC, CNN, and HLN. For the extended 7-11p hours, Fox clocked 1.7M average, up 11% from last year, beating CNN's 548k, MSNBC's 552k, and HLN's 330k.
With Fox continuing its regularly-scheduled outperformance of the other cable news nets, who can we say finished in second place? It depends on your criteria. As you read above, CNN won the silver medal for Mon.-Sun. primetime viewership; while MSNBC came in second for M-F primetime.
CNN's morning show, New Day racked up its first quarterly victory ever over MSNBC's Morning Joe in total viewership (347k to 338k) and the 25-54 demo (112k to 87k). Meanwhile, MSNBC's Hardball, The Rachel Maddow Show, and The Last Word all finished second in total viewership for the quarter, beating their CNN competitors.
Meanwhile, CNN beat MSNBC in the demo during the 7 p.m., 9 p.m., and 10 p.m. hours. Anderson Cooper's 8 p.m. CNN show beat Chris Hayes' MSNBC show at the same time in both total viewership and the demo.
We should also note that four individual Fox programs ranked first in total viewers among all of cable: Fox & Friends, America's Newsroom, The Five and Special Report.
Have a tip we should know? [email protected]