Report: FBI Believes Five Foreign Intelligence Agencies Hacked Clinton Server (UPDATE)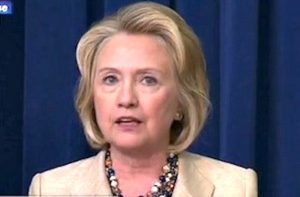 The leak war between the Department of Justice and the FBI about their investigation into the Clinton Foundation and Hillary Clinton's email server continued unabated, with Fox News host Bret Baier reporting on a series of revelations Wednesday night.
Baier said at the top of Special Report that he had spoke with "two separate sources with intimate knowledge of the FBI investigations." Those sources, he said, revealed three major new pieces of information about the various Clinton investigations.
Firstly, "the investigation into the Clinton Foundation looking into possible pay-for-play interaction between Secretary of State Hillary Clinton and the Foundation has been going on for more than a year." That investigation, Baier's sources tell him, is "very high priority."
Secondly, the laptops of top Clinton aides Cheryl Mills and Heather Samuelson have not been destroyed and are being actively searched for information. Both laptops were supposed to be destroyed as part of their immunity deals, but as Baier pointed out, "any immunity deal is null and void if a subject lied at any point in the investigation."
Thirdly, the FBI is indeed actively looking through Anthony Weiner's laptop and have found previously undiscovered emails originating from Clinton's private email server.
But Baier saved his two most explosive revelations for an interview with Brit Hume in the following hour. There, Baier revealed that his sources are also confident that Clinton's server was successfully hacked by at least five foreign governments, and that the FBI was seeking an indictment in the Clinton Foundation case.
"We learned there is a confidence from these sources that [Clinton's] server had been hacked," Baeir said. "And that it was about a 99% accuracy that it had been hacked by at least five foreign intelligence agencies, and they believe that things had been taken from that."
Baier said his sources were not happy with Attorney General Loretta Lynch and statements from President Barack Obama, but they believe that the investigation will be allowed to continue even if Clinton were elected. "And barring some obstruction in some way, they believe they will continue to likely an indictment," he reported.
UPDATE (10:13 AM ET): Appearing on Fox News Thursday morning, Baier backed off his initial phrasing that an indictment was "likely," saying that his response to Hume was "inartfully answered." His sources, Baier said, were confident about that the strength of their evidence, but reiterated that prosecutors ultimately make the final decision on whether to indict. Baier stood by the rest of his reporting.
UPDATE (Nov. 4, 2:00 PM ET): On Friday afternoon Baier said, "That just wasn't 'inartful.' It was a mistake, and for that I'm sorry." He also clarified that there was still no hard evidence that Clinton's server had been breached.
Watch above, via Fox News.
[Image via screengrab]
—
>>Follow Alex Griswold (@HashtagGriswold) on Twitter
Have a tip we should know? tips@mediaite.com