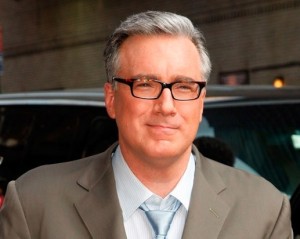 Shortly after Keith Olbermann was suspended last fall, narly 250,000 fans signed an online petition in support of the embattled anchor. Many suggested that was the best evidence that Olbermann's next venture would be a Internet-based one. Well now we know that may not be entirely true, as the NY Times is reporting that the former MSNBC anchor will announce tomorrow plans to join Current TV, the struggling cable network founded in part by Al Gore.
Earlier today we reported that Olbermann and partners were announcing big new plans tomorrow during a conference call. Given the reported non-compete clause on any television network, we surmised that Olbermann might be announcing some sort of Internet project. This theory was somewhat supported by a tip that pointed out that a simple whois search reveals that the domain names "theolbermannshow.com" and "thekeitholbermannshow.com" were registered January 19th, 2011, just two days before his last appearance on MSNBC. Turns out that it now looks like Olbermann will be returning to television, albeit one with a much, much smaller reach than MSNBC.
Writing for the NY Times Bill Carter and Brian Stelter report:
Keith Olbermann, the former top-rated host of "Countdown" on the news channel MSNBC, will announce his next television home on Tuesday, and people familiar with his plans pointed Monday to a possible deal with the public affairs channel Current TV.

Neither Mr. Olbermann, his representatives, or executives from Current TV would comment on the move, but they did not deny that the channel, which counts former Vice President Al Gore as one of its founders, will become at least one partner in Mr. Olbermann's future media plans.

One of the people with knowledge of the plans said Mr. Olbermann would have an equity stake in Current TV. The people insisted on anonymity because they were not authorized by their employers to comment in advance of the official announcement.

On Monday a public relations agency hired by Mr. Olbermann scheduled a Tuesday morning conference call for an announcement about his next job. "He and his new partners will make an exciting announcement regarding the next chapter in his remarkable career," the agency wrote in an e-mail.
Read the full report at the Media Decoder blog at NY Times.
Have a tip we should know? tips@mediaite.com
Colby Hall - Founding Editor