Sen. Schumer: GOP's Refusal to Lift Debt Limit Could Panic Markets by Monday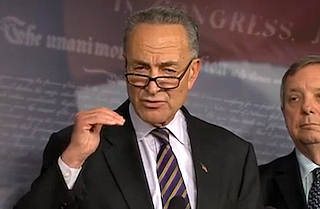 Senator Chuck Schumer (D-NY) warned that the markets could react precipitously to Saturday afternoon's failure to pass a clean debt ceiling bill, and that the response could come as early as Monday morning, as opposed to the October 17 deadline set by Treasury Secretary Jack Lew.
"We don't know when the markets will react to this," Schumer said in a press conference following the vote.
"You can't say no sooner than next Thursday. I worry on Monday that when the American markets open, maybe because of this vote, that they will start worrying. Then not only will the stock market go down, but the interest rates will go up, and the value of U.S. Treasuries decline. It's very serious. It would have been a whole lot better if we had just put this aside and a 100-0 vote to pay our bills. That didn't happen."
The Senate, which took over negotiations on Saturday after twelve days' worth of stalemate with the House GOP, a considered and rejected a proposal by Senator Susan Collins (R-ME) to repeal the medical device tax in exchange for a six month continuing resolution at sequestration levels, and then failed to achieve cloture for a "clean" debt ceiling raise.
"The good news is that the meeting that Senator [Harry] Reid (D-NV) and I had with Senator [Lamar] Alexander (R-TN) and Senator [Mitch] McConnell (R-KY) give me a little bit of cause for optimism," Schumer continued. "Clearly the talks are in their early stages. I believe Senator McConnell showed good will. I believe he wants to come to a solution. I believe he knows how serious it is to default. And my view is that it will be the Senate that will have to come to an agreement here, because the House Republicans seem so divided, and in such disarray. They don't have a plan."
Watch the full clip below, via Live Video Feed:
[Image via screengrab]
——
>> Follow Evan McMurry (@evanmcmurry) on Twitter
Have a tip we should know? tips@mediaite.com