State Of Affairs: SNL's Gov. Sanford And John Edwards Suggest Tiger Woods Coverage Is Race-Based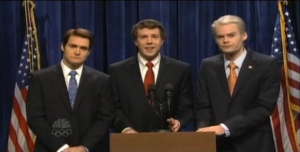 It was a bipartisan cheaters' party in the opening sketch of Saturday Night Live this week, as the show used a familiar avenue to take on the Tiger Woods fiasco: politics. The C-SPAN segment featured Gov. Mark Sanford, Sen. John Ensign, and former Sen. John Edwards analyzing the media coverage of the golfer's infidelity, and even suggesting that the public's double standard is racial. Extramarital for everyone!
The "orgy" of "excessive" and "lurid" media coverage that Tiger's affairs received, the politicians note, has "completely overshadowed" coverage of their own cheating scandals. And then the trusted SNL political angle: "Like Tiger Woods we have broken our marriage vows, but in addition, as elected officials, we have also violated the public's trust. It's a pretty big deal, yet it seems like the media couldn't care less," says Sen. Ensign. The others agree.
And though they each trade scandalous details — cover stories, hush money, a love child! — they remain incredulous about the lack of press coverage compared to Mr. Woods. Maybe it's the number of women, they suggest, before one of the strangest lines in the clip: "Evidence of our other affairs is out there if the media would bother to look!" Is that so? Or is that funny?
But the clip also takes another sobering turn when it is suggested that the double press standard is racial: "We pray this isn't about race. Our nation has seen too much of that."
Like this season's Obama and China opening, it's almost as if SNL is deciding that making political or social statements outweighs their responsibility to make people laugh with their weekend sketch-comedy show. The entire thing sounds so much more like a dinner party polemic than jokes. Maybe it's to be lauded, but it seems like a questionable direction, and judging by this clip, it's getting more serious as the weeks go on. See for yourself:
Have a tip we should know? tips@mediaite.com