The Five's Beckel Rips Bolling for Laughing at Climate Science: 'You Are a Total, Complete Jerk!'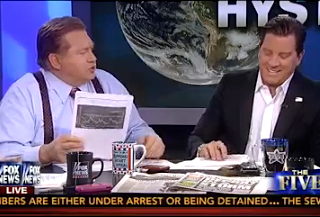 Today is Earth Day. Fox News' The Five opened its show with a nearly 15 minute segment titled "Earth Day Hysteria." The goal appeared to be to prove that scientists' warnings about climate change are overblown and should be ignored if not outright mocked and co-host Eric Bolling was the ringleader of the effort. But he found an adversary in Bob Beckel, who challenged the status quo by presenting actual data on the rise of CO2 levels from NASA, of all places.
But before Beckel got to his chart, Bolling took some time to "praise" President Barack Obama for what he clearly thought was hypocritical behavior on Earth Day. "I am so darn proud of our president today," Bolling said, uncharacteristically. Obama took a chopper to Andrews Air Force base before flying on Air Force One to Washington State to visit victims of the mudslides there. Then he will continue on to Tokyo to kick off a week-long trip through Asia. "On Earth Day, he's going to spend 35,000 gallons of jet fuel, he's going to emit 375 tons of CO2. Way to go, President Obama," Bolling said, adding, "Can I vote from him one more time? Is he up for reelection?"
At this point, Beckel jumped in to point out that all presidents fly across America and to other countries so there's nothing particularly unusual about what Obama is doing today. He then pulled out a photocopy of this chart from NASA that the show's producers apparently did not think was worthy of putting on screen as an actual graphic. It was a bit hard to see in Beckel's hand, so here it is for closer examination: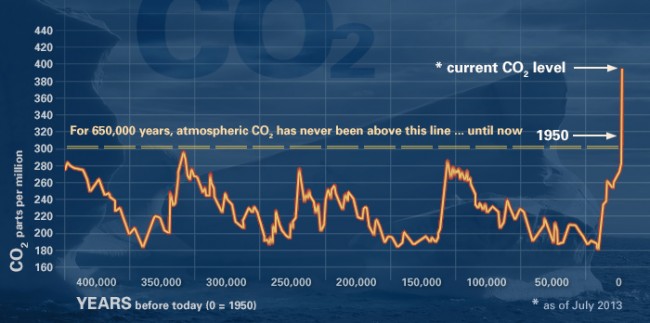 As Beckel began describing what the chart showed, Bolling started laughing uncontrollably to his left. "You find that funny?" Beckel asked him. "You want to laugh at NASA?" After explaining that he would trust NASA more than any source Bolling could come up with he added, "Don't laugh at NASA scientists, these people have done remarkably good jobs."
As the other hosts tried to move the conversation forward, Bolling picked up the chart and kept laughing to himself. "If you laugh at that thing, you are a total, complete jerk," Beckel told him before snatching the paper out of his hands.
Watch video below, via Fox News:
[photo via screengrab]
— —
>> Follow Matt Wilstein (@TheMattWilstein) on Twitter
y.
Have a tip we should know? tips@mediaite.com