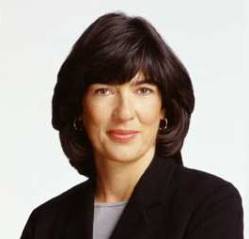 ABC announced the hiring of Christiane Amanpour for This Week on March 18, and she signed off of CNN on May 1.
But she doesn't start on ABC until the end of August – because of a vacation to France she's taking for a couple months over the summer.
As Amanpour 'laughed' off criticism of her domestic political coverage in Washington this week, we hear she's headed for a lengthy trip to France before she joins her new show full time, a vacation she has made before when she's been at CNN.
An ABC News spokesperson tells Mediaite, "The reason she's starting in August is she had commitments in the U.S. and in Europe through the summer months, and she's also going to take a well-deserved break after 29 years at CNN. But when she gets to ABC she'll hit the ground running, and we'll have a vacation schedule like every other anchor and correspondent here."
The New York Post wrote about the vacation, reporting, "she told a British newspaper last year, 'I spend time in France each summer.'"
However this summer is very different – it's the summer before she takes on a major new role at a new network. No one would question the journalistic acumen and work ethic of Amanpour – her international experience and war coverage is practically unparalleled. Sure, she could use a little break.
But she takes the This Week gig as at least some dissension exists already in the D.C. bureau at ABC regarding her arrival. While she can prepare abroad, and check in at ABC until she leaves, the transition could be more complicated because of the distance.
—–
» Follow Steve Krakauer on Twitter
Have a tip we should know? tips@mediaite.com