Tucker Carlson: Still 'Don't Understand' What Jon Stewart Was Trying to Say on Crossfire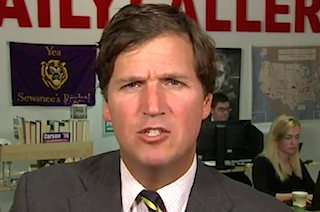 It's been more than 10 years since Jon Stewart descended onto CNN's Crossfire to implore its hosts to stop "hurting America." And yet for many people, that moment is first thing they think of when they see Paul Begala and Tucker Carlson. But while Begala, who still works for CNN, has admitted that Stewart had a point about "excessive partisanship," Carlson still has no idea what The Daily Show host was talking about.
During an appearance on C-SPAN's Washington Journal Thursday morning, a caller asked the Fox host/Daily Caller editor-in-chief if he would be willing to try his hand at debating Stewart again.
"I don't know that he has a show anymore, does he?" Carlson said, attempting a joke. "I didn't debate Jon Stewart the first time. He came on our show and made a bunch of noises that I didn't understand then and I don't understand now."
RELATED: Fox News: We Don't Care if Tucker Carlson's Daily Caller Criticizes Us
While Carlson admitted that Stewart is a "talented guy" who has "been more successful" than he has, he said, "I still don't understand what point he was trying to make, I thought it was ridiculous."
"I don't think he said anything intelligible or worth hearing," Carlson continued, taking particular offense to the suggestion that he has ever sucked up to politicians and accusing Stewart of doing that in his Daily Show interviews. "I didn't even get his criticism then. I get that he was more popular than I was and probably still is much more popular than I am so he was recorded as the winner, but on the merits, you know, what he had to say was dumb."
As Carlson indicated, the internet does not exactly agree with the assessment that Stewart didn't offer up anything "intelligible or worth hearing" in his appearance. The original 2006 YouTube posting on the video is approaching 9 million views and the segment is often cited as a defining critique of the problems inherent in today's cable news format.
In a Reddit AMA earlier this year, Stewart had this to say about his experience on the show: "It really was not my intent to be disruptive. I truly thought we'd have a goof about how terrible the program is at the top, and move on, but… the combination of their obstinance and my low blood sugar led to no bueno."
Watch video below, via C-SPAN:
And you can relive the entire Crossfire segment below, via CNN:
[Photo via screengrab]
— —
>> Follow Matt Wilstein (@TheMattWilstein) on Twitter
Have a tip we should know? tips@mediaite.com