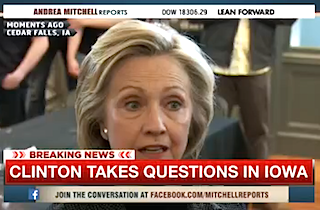 Cable news brought out the "breaking news" banners Tuesday afternoon when Hillary Clinton decided to take questions for the first time in more than four weeks during a campaign stop in Iowa. After attempting to shut down an interruption by Fox News' Ed Henry, Clinton only stuck around long enough to answer five questions from the press. After everything we've seen from her potential GOP rivals over the last week, one of them was inevitably about Iraq.
"Given the situation in Iraq, do you think we're better off without Saddam Hussein in power?" one reporter asked.
Now, technically, Clinton did not answer that question specifically, but in just over 30 seconds, she did give a more clear and concise answer on the legacy of the Iraq War and her involvement in the decision to invade, than any of her Republican opponents. Here's what she said:
"I know that there have been a lot of questions about Iraq posed to candidates over the last weeks. I've made it clear that I made a mistake, plain and simple. And I have written about it in my book, I've talked about it in the past. And what we now see is a very different and dangerous situation. The United States is doing what it can, but, ultimately, this has to be a struggle the Iraqi government and the Iraqi people are determined to win for themselves. And we can provide support, but they are going to have to do it."
As Clinton referenced, this is not the first time she admitted her "mistake" in voting to authorize the Iraq War, first in her book, Hard Choices
, and then in subsequent interviews last year.
During the first in his string of problematic answers on Iraq, Jeb Bush told Fox News' Megyn Kelly that "knowing what we know now," he would have invaded Iraq had he been president "and so would have Hillary Clinton, just to remind everybody, and so would almost everybody that was confronted with the intelligence they got."
Later, Bush claimed he must have "misheard" Kelly's question and thought she meant "knowing what we knew then." Eventually, he came around to admitting that with the benefit of hindsight he would not have "engaged" Iraq back in 2003.
During his interview with Fox's Chris Wallace, Sen. Marco Rubio (R-FL) stuck even firmer to his defense of the Iraq War, stating, "It was not a mistake for the president to have invaded Iraq based on the intelligence he was presented."
With her comments Tuesday, Hillary Clinton demonstrated that, unlike her Republican opponents, she has no hesitation when it comes to calling the Iraq War what she and many others who once supported it now believe it to be: a "mistake."
Watch video below, via MSNBC:
Hillary Clinton on past support of Iraq war: "I made a mistake, plain and simple." http://t.co/xUO3yg5zjG

— msnbc (@msnbc) May 19, 2015
[Photo via screengrab]
— —
>> Follow Matt Wilstein (@TheMattWilstein) on Twitter
Have a tip we should know? tips@mediaite.com