Were NBC Top Execs Andy Lack or Steve Burke Involved In Burying Weinstein Story? (Update)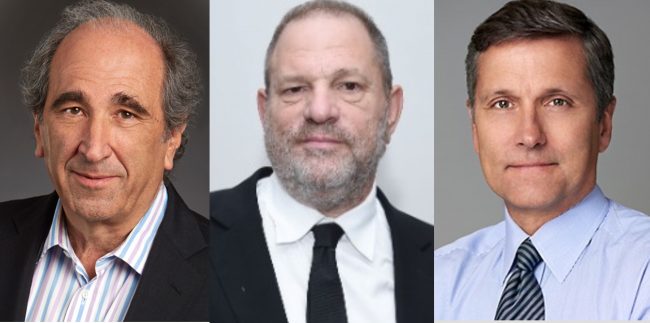 If there is one good thing that has emerged from the scandalous and disgusting behavior of now disgraced movie producer Harvey Weinstein, it is the high level of journalism that has brought disinfecting sunlight to his horrible behavior.
The NY Times initially broke the story last week, then The New Yorker followed suit with Ronan Farrow's thorough — and thoroughly disgusting — report, complete with audio. But a new report suggests that NBC News first had this story and chose not to report it, which leads to some important questions. Who at NBC News passed on this story? Why would they choose not to cover such an enormous and important story? And was there some sort of mandate from above?
Yashar Ali continued his amazing recent run in breaking news and inside dope in the media world, with a report claiming that NBC News first had Farrow's report, but chose not to run it over concerns with "sourcing." According to Ali's sources, NBC gave permission for Farrow to take his piece to the impeccably meticulous The New Yorker, who somehow overcame those concerns and ran the detailed story with great fanfare. The NY Media world literally ground to a halt to read — and listen to — Farrow's work at TheNewYorker.com.
The claim that NBC was uncomfortable with the sourcing of Farrow's report is a remarkably curious one if true. The article was published wth audio revealing a desperate Mr. Weinstein pressuring a young actress to join him in his hotel room, while she expresses clear discomfort and alleges that "he had touched her breast" the day earlier. Other subjects mentioned in the article have since publicly confirmed the report. It appears to be as well sourced an article as one could possibly hope, particularly given the subject and subject matter. Furthermore, Ali had also reported last week that the Harvey Weinstein scandal barely merited any mention on NBC News and MSNBC in the first few days after the original NY Times report.
But it doesn't end there. NBC's biggest entertainment franchise Saturday Night Live also neglected to cover Weinstein's alleged behavior in "comedy" form, which raised eyebrows of media critics of many stripes. SNL Executive Producer Lorne Michaels offered what many thought to be a flaccid explanation saying that, since Weinstein was a New Yorker, jokes at his expense fell flat with a New York audience in a dress rehearsal.
So what is going on? One theory is connected to a Page Six report from earlier this year that claimed that at least NBC News has become a "boys club." From that report:
An insider told us of the staff changes, "Morale is down and women are pissed. NBC is back to being a boys club now. When Ann Curry was fired, there were no women in charge and . . . Pat ­Fili-Krushel and Turness were brought in . . . now it's back to all boys. Many women in the organization didn't see Turness as a strong supporter."
The article then goes on to point the blame for NBC's slipping ratings with female viewers on NBC News Chief Andy Lack, but the larger issue is the rumored "boys club." Mediaite has also heard similar complaints from multiple sources within NBC News that support the grumblings described in the Page Six article.
So who exactly was responsible for spiking the Farrow story on Harvey Weinstein? Logically this sort of decision would likely have gone to the top of the NBC News food chain. But SNL isn't under Andy Lack's control, so could it be Steve Burke, CEO of NBC or someone at Comcast above him who requested the company back off?
Ronan Farrow appeared on MSNBC's Rachel Maddow Show last night, and seemed to be suggesting that NBC passed on his piece based on pressure from Weinstein, telling host Rachel Maddow that she would "have to ask NBC and NBC executive about the details" on why they passed on this story.
Farrow said "I walked into the door at The New Yorker with an explosively reportable piece that should have been public earlier, and immediately, obviously, The New Yorker recognized that, and it is not accurate to say that it was not reportable. In fact, there were multiple determinations that it was reportable at NBC."
An NBC spokesperson tells Mediaite "there was no  'decision to minimize coverage' at any point.  It's still not clear why they passed on this story, which ironically, has now become a lead story on both network news and MSNBC after The New Yorker published the very story that they passed on. Then again, Weinstein is no longer a powerful figure in Hollywood or anywhere else, which may be why NBC News now feels free in reporting on it.
There are many reasons why NBC executives may have glossed over the Weinstein story, but chief among them has to be gross negligence. Even if it has nothing to do with the previously reported "boys club" environment, the stunning lack of coverage provided inevitably leads to questions about whether something more disturbing was at play.
UPDATE – The Hollywood Reporter has published a Town Hall speech made by NBC News President Noah Oppenheimer explaining the networks role in assigning, supporting and ignoring Farrow's report:
One of the consequences of choosing, as a news organization, to invest and lean into investigation journalism, is that we are going to often times, chase and touch upon stories that we are unfortunately not the ones who end up breaking. So, on that note, I wanted to come up here and proactively address some of the noise that has been circulating regarding Ronan Farrow's great Harvey Weinstein scoop. Because, it would pain all of us who were involved in that, and involved in investigations, if anyone at this organization, thought there was anything to be ashamed of in that decision making process. In fact, quite the contrary. Ronan, who was not working for us exclusively, began reporting on that story for NBC.
We are proud of that. We launched him on that story, we encouraged him to report that story. We supported him and gave him resources to report that story over many, many months. The notion that we would try to cover for a powerful person is deeply offensive to all of us. Like pretty much every newspaper and magazine in LA and New York, the New York Times up until last week, New York Magazine, The Hollywood Reporter, you name it, we were on that long list of places that chased this thing, tried to nail it but weren't ultimately the ones who broke it. We reached a point over the summer, where as an organization, we didn't feel that we had all the elements that we needed to air it.
Ronan very understandably wanted to keep forging ahead, so, we didn't want to stand in his way and he took it to the New Yorker and did a ton more extraordinary work. He greatly expanded the scope of his reporting. Suffice to say, the stunning story, the incredible story that we all read yesterday, was not the story that we were looking at when we made our judgment several months ago. But we couldn't be prouder of him, and I think all you need to know about our feeling about the importance of the story is that we have been putting him on our air throughout the day yesterday, and this morning, ever since. And booking accusers and covering the story really aggressively.
So, what I would say, is that we are going to keep digging, we are going to keep pursuing these stories, we are not always going to be the ones that get it to the finish line, but I think more often than not, we will be. And I think we should all be proud of being an organization that is at least in the hunt on these things. So, thank you.
This is an opinion piece. The views expressed in this article are those of just the author.
Colby Hall - Founding Editor