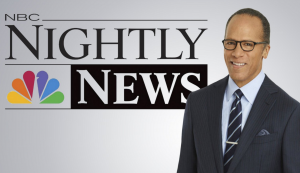 Quietly and with little fanfare, Lester Holt has carried NBC News to the top of the broadcast news race once again.
Per an NBC press release:
"NBC NIGHTLY NEWS WITH LESTER HOLT" IS #1 ACROSS THE BOARD AND DELIVERS BIGGEST JULY SWEEP AUDIENCE IN 10 YEARS.
Good for Lester. And good for the Peacock, whose news division has been through its rockiest year in its history thanks to the Brian Williams debacle and the MSNBC meltdown. Holt was thought by many (including me) to simply be a placeholder until someone else with more appeal and pizazz could be lured to the position. Turns out audiences simply want someone they can trust without the bells and whistles. In the case of Holt, there's not only credibility, but an intangible they don't teach at Big Boy Anchor School:
The ability to make a story feel more important. It's not something that can be quantified or really described. For Holt, it's just something for that comes from being in the business for 19 years with CBS and another 15 with NBC. That's experience very few have in a business that always tries to go younger, flashier and/or in pursuit the bigger "name". Holt is now the first African-American to solo anchor a national nightly newscast in a full-time capacity.
"I never define my career by my race," Holt told ET back in June, "but I think it's important that this broadcast all the broadcasts we do on this network reflects our audience. People should be able to turn on the TV and see people that look like them or someone they know."
On a personal level, I was interviewed by Holt twice during his time as an MSNBC dayside anchor in 2004. And it was one of the few times I felt nervous walking onto a set. He just looked and felt big time with that booming voice and relatively tall frame. And now all the at-bats with stops in Sacramento, Los Angeles, San Francisco, New York and Chicago before coming to MSNBC and NBC, and all the hard work without even a sniff of controversy…are now completely paying off for the 56-year-old.
NBC may not have fully appreciated what it had on its anchor bench initially. Maybe the powers that be at 30 Rock thought the success or popularity of Brian Williams couldn't be duplicated for a long time.
Given with the gaudy summer numbers now in thanks to Lester Holt and the NBC Nightly News team, they certainly know what they have now.
— —
Follow Joe Concha on Twitter @JoeConchaTV
Have a tip we should know? [email protected]