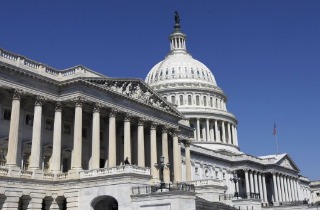 Congressional staffers have been ordered to shelter in place after shots were reportedly fired at the U.S. Capitol Visitors Center.
U.S. Capitol Police announced in a system-wide email that they "are locking down the entire U.S. Capitol Complex due to a potential security threat." No one is being allowed to enter or exit any of the congressional office buildings, and those outside are being told the seek cover.
The Hill reporter Scott Wong tweeted that police are actively telling tourists to flee the area.
Police telling tourists to run away from Capitol

— Scott Wong (@scottwongDC) March 28, 2016
The is a developing story, and will be updated as more details emerge.
UPDATE — 3:21 p.m. EST:
As reports slowly trickle in that the shooter is in custody, eyewitnesses are tweeting their perspectives from the scene.
Police presence outside the Capitol right now. Not allowing anyone across the street to the grounds pic.twitter.com/FhbJOZdkfS

— Jonathan Tamari (@JonathanTamari) March 28, 2016
Capitol Police officers are letting tourist families into the Senate press gallery so they can use the toilets.

— Emma Dumain (@Emma_Dumain) March 28, 2016
The police are also letting the public know that they are in no danger.
There has been an isolated incident at the US Capitol. There is no active threat to the public

— DC Police Department (@DCPoliceDept) March 28, 2016
UPDATE — 3:31 p.m. EST
Despite some initial reports that a Capitol Police officer had been shot, there was only one injury: a female civilian who was hit by shrapnel. No officer was shot or injured.
One writer is claiming that she is hearing that the shooter is not in custody:
Now we're hearing #Capitol police officer wasn't shot and maybe the shooter has not been apprehended? #DC

— Alyson Neel (@alysonneel) March 28, 2016
MSNBC is saying that the suspect is in custody, but no officer was hurt:
UPDATE: @PeteWilliamsNBC reports no officer shot at U.S. Capitol, a suspect has been shot & is in custody https://t.co/YfGQJRaS8e

— MSNBC (@MSNBC) March 28, 2016
Finally, Shep Smith is saying that not only is the suspect in custody, but another person was hit by shrapnel:
Capitol police: Shooter is "down," one person hit by "shrapnel" being taken to hospital

— Shepard Smith (@ShepNewsTeam) March 28, 2016
CNN is saying that the person injured by shrapnel was a woman standing nearby.
Capitol Shooting Update from @CNN:

-male suspect shot, in custody
-Female civilian injured
-nobody else at large pic.twitter.com/M58i1ppcEA

— Sara Yasin (@missyasin) March 28, 2016
[Image via screengrab]
——
>>Follow Alex Griswold (@HashtagGriswold) on Twitter
Additional reporting done by Lindsey Ellefson.
Have a tip we should know? tips@mediaite.com