Ex-Trump Official to Mag: Nielsen Thought Stephen Miller Was an 'Egomaniacal Lunatic Who Hated Brown People'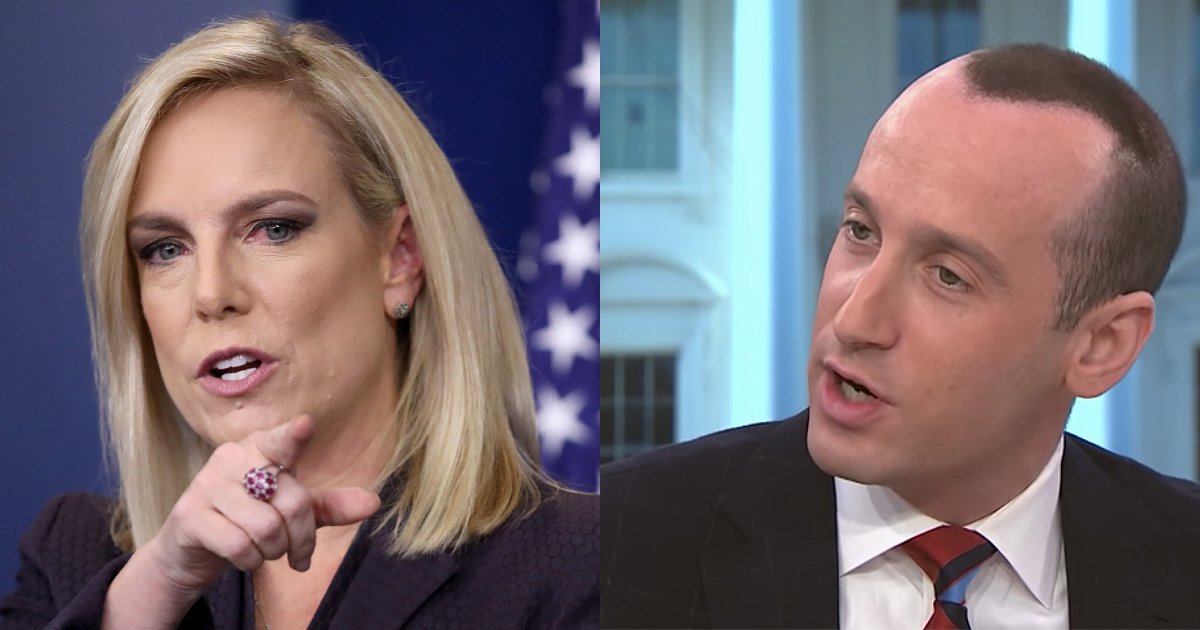 Outgoing DHS Secretary Kirstjen Nielsen was in a war with Trump adviser and unofficial immigration czar Stephen Miller for months before she ultimately lost, a former senior official in the administration says. And it was an ugly war.
Writing for the Daily Beast, reporter Asawin Suebsaeng revealed on Monday that two "knowledgeable sources" say that the ongoing combat between Nielsen and Miller was so intense that they "could barely be in the same room without making other top officials uncomfortable."
Suebsaeng cites "a former senior Trump administration official who has been in the room with both [Nielsen and Miller] numerous times" to relate the absolute juiciest description you'll read this week.
"Miller thought Nielsen was a soft-on-the-border Bushy and she thought he was a egomaniacal lunatic who hated brown people. Needless to say, that made for awkward moments in the Oval [Office] and Cabinet Room," the official said.
The speculation is so widespread as to be conventional wisdom already that Miller is the architect of a purge at DHS and is overseeing implementation of Trump's desire to crack down on immigration and the border; As Trump put it, to go in a "tougher direction." And Miller's views, echoed and lauded by pundits like Fox Business Network's Lou Dobbs, have inspired repeated and sustained right-wing criticism of Nielsen throughout her tenure. That the two would be at one another's throats is hardly far-fetched.
There is more in the article that is definitely worth reading.
[Featured image via Win McNamee/Getty Images / Screenshot]
Have a tip we should know? tips@mediaite.com
Caleb Howe - Contributing Editor