Ron Paul Challenges Santorum On TSA Profiling: 'What If He Looks Like Timothy McVeigh?'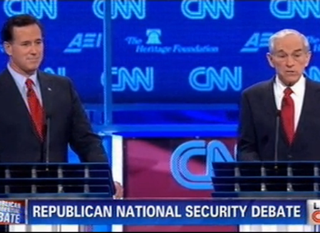 Former Pennsylvania Senator Rick Santorum and Rep. Ron Paul, the opposite ends of the right-wing of the American political spectrum, may have had a moment of agreement tonight that confused more than one person. But while their thoughts on executing the War on Terror may have found one similar point, their answers on a question about profiling potential terrorists clearly highlighted why the two make for some of the most colorful moments in the debate, as Rep. Paul challenged Santorum to answer just how profiling helped catch anyone.
RELATED: Watch Rep. Ron Paul's Jaw Drop As Rick Santorum Declares: 'I Agree With Ron Paul'
Santorum answered his question on profiling and the TSA noting that he did not believe that "pat downs and other intrusions" on every single person was efficient, and that the government taking care of the issue was also problematic. "I voted to allow for privatization," he noted, but then elaborated on his stance on the PATRIOT Act. "We are at war," he argued, one where the threat was within our borders. To that end, moderator Wolf "Blitz" Blitzer asked just what kind of profiling he approved of, whether ethnic or religious. Santorum responded, "the folks most likely to commit these crimes."
At this point, Rep. Paul jumped in. "What if they look like Timothy McVeigh?" he asked, referencing the Oklahoma City bomber. Paul was then given the floor, where he argued that "terrorism is a tactic, it isn't a person, it isn't a people," and so declaring "war" on it was a misnomer, one he considered dangerous. He added that he found it absurd that some wanted to "sacrifice victories because there are terrorists," and that they had been declared as such before receiving due process.
RELATED: Rep. Ron Paul: I Would Not Aid Israel In Military Action Against Iran
The contrast in attitude to the war on terror was striking, and one of the stand-out moments of the debate. The clip via CNN below:

Have a tip we should know? tips@mediaite.com