2016 James Beard Award Winners for Book, Broadcast and Journalism: Full List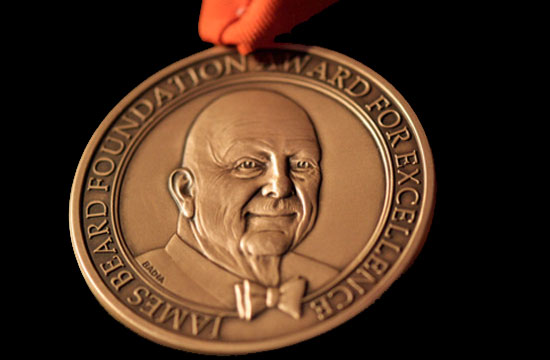 The James Beard Book, Broadcast and Journalism Awards were last night. This ceremony honors cookbook authors, culinary broadcast producers and hosts, and food industry journalists, and the ceremony and reception were at Pier Sixty in New York City. The evening was hosted by previous winner Ming Tsai. Check out the full list of winners here:
Book Awards

American Cooking 

The Beetlebung Farm Cookbook
Chris Fischer with Catherine Young
(Little, Brown and Company)

Baking and Dessert

Sourdough: Recipes for Rustic Fermented Breads, Sweets, Savories, and More
Sarah Owens
(Roost Books)

Beverage  

The Oxford Companion to Wine 
Jancis Robinson and Julia Harding
(Oxford University Press)

Cooking from a Professional Point of View

NOPI: The Cookbook
Yotam Ottolenghi and Ramael Scully
(Ten Speed Press)

Focus on Health

Lighten Up, Y'all: Classic Southern Recipes Made Healthy and Wholesome
Virginia Willis
(Ten Speed Press)

General Cooking 

The Food Lab: Better Home Cooking Through Science
J. Kenji López-Alt
(W. W. Norton & Company)

International

Zahav: A World of Israeli Cooking
Michael Solomonov and Steven Cook
(Rux Martin Books/Houghton Mifflin Harcourt)

Photography

Near & Far: Recipes Inspired by Home and Travel
Photographer: Heidi Swanson
(Ten Speed Press)

Reference and Scholarship

The Jemima Code: Two Centuries of African American Cookbooks
Toni Tipton-Martin
(University of Texas Press)

Single Subject

A Bird in the Hand: Chicken Recipes for Every Day and Every Mood
Diana Henry
(Mitchell Beazley)

Writing and Literature  

Soda Politics: Taking on Big Soda (and Winning)
Marion Nestle
(Oxford University Press)
Vegetable Focused and Vegetarian  

V Is for Vegetables: Inspired Recipes & Techniques for Home Cooks
Michael Anthony
(Little, Brown and Company)

Book of the Year: 

Zahav: A World of Israeli Cooking
Michael Solomonov and Steven Cook
(Rux Martin Books/Houghton Mifflin Harcourt)
Cookbook Hall of Fame

Deborah Madison

Broadcast Media Awards / Presented by Lenox Tableware and Gifts

Documentary

The Starfish Throwers
Director: Jesse Roesler
Producers: Jesse Roesler and Melody Gilbert
Airs on: DirecTV Audience Network and iTunes
Outstanding Personality/Host

Host: Vivian Howard
A Chef's Life
Airs on: PBS
Podcast

Gravy
Host: Tina Antolini
Producer: Tina Antolini
Airs on: southernfoodways.org/gravy

Radio Show/Audio Webcast 

The Food Chain: Chinatown
Host: Dan Saladino
Producers: Kent DePinto, Sarah Stolarz, and Dan Saladino
Airs on: NPR Stations/BBC World Service

Special

Lidia Celebrates America: Home for the Holidays
Host: Lidia Bastianich
Producers: Laurie Donnelly, Anne Adams, and Shelly Burgess Nicotra
Airs on: PBS

Television Program, in Studio or Fixed Location

Extra Virgin
Hosts: Debi Mazar and Gabriele Corcos
Producers: Gordon Elliott, Mark Schneider, Dan Connell, Sara Porter, Debi Mazar, and Gabriele Corcos
Airs on: Cooking Channel

Television Program, on Location

I'll Have What Phil's Having
Host: Phil Rosenthal
Producers: Laurie Donnelly, Phil Rosenthal, Richard Rosenthal, John Bedolis, Christopher Collins, Lydia Tenaglia, Craig H. Shepherd, and David Beebe
Airs on: PBS

Television Segment

PBS NewsHour's "Food4Thought"
Host: Allison Aubrey
Producer: Mary Beth Durkin
Airs on: PBS

Video Webcast, Fixed Location and/or Instructional

Indian Curries: The Basics & Beyond
Host: Raghavan Iyer
Producer: Jared Maher
Airs on: craftsy.com

Video Webcast, on Location

The Sushi Chef: Oona Tempest and Toshio Oguma
Producer: Elana Schulman
Airs on: munchies.vice.com

Visual and Technical Excellence

Chef's Table
Directors: David Gelb, Clay Jeter, Brian McGinn, and Andrew Fried
Photographers: Will Basanta and Adam Bricker
Editors: Brad Grossman, J. Santos, Eric Freidenberg, Ravi Subramanian, Adrienne Gits, and Jesse Overman
Airs on: Netflix

Journalism Awards

Dining and Travel

"America's Best Food Cities"
Tom Sietsema
The Washington Post
Food and Culture 

"Straight-Up Passing"
John Birdsall
Jarry

Food and Health

"The Healthy Cook's Guide to Fat"
Sidney Fry and Robin Bashinsky
Cooking Light

Food Blog

Lucky Peach
Food Coverage in a General-Interest Publication 

Los Angeles Magazine
Lesley Bargar Suter and Bill Esparza
Food-Related Columns

"Eat"
Francis Lam
New York Times Magazine
Food Reporting 
"Seafood From Slaves – An AP Investigation Helps Free Slaves in the 21st Century"
Martha Mendoza, Margie Mason, and Robin McDowell
Associated Press 

Home Cooking

"Cook Like a Pro!"
Adam Rapoport
Bon Appétit

Humor

@Freshcutgardenhose
Maryse Chevriere
Instagram

Personal Essay

"On Chicken Tenders"
Helen Rosner
Guernica

Profile

"Christiane Lauterbach: The Woman Who Ate Atlanta"
Wendell Brock
The Bitter Southerner
Visual Storytelling

"One Night: Kachka"
Erin DeJesus, Danielle Centoni, Jen Stevenson, Dina Avila, McGraw Wolfman
Eater


Wine, Spirits, and Other Beverages

"There Are Almost No Black People Brewing Craft Beer. Here's Why."
Dave Infante
Thrillist


Craig Claiborne Distinguished Restaurant Review Award 

"A Health Food Restaurant so Cool It Will Have You Happily Eating Seeds," "Revisiting Momofuku Ko, After the Revolution," "Polo Bar Review: Ralph Lauren Corrals the Fashionable Herd"
Tejal Rao
Bloomberg Pursuits


MFK Fisher Distinguished Writing Award 

"Pork Life"
Todd Kliman
Lucky Peach
Publication of the Year

Lucky Peach
The awards for restaurants, chefs, and the inaugural restaurant design award will take place on May 2nd in Chicago. Congrats to all of the winners!
Have a tip we should know? tips@mediaite.com