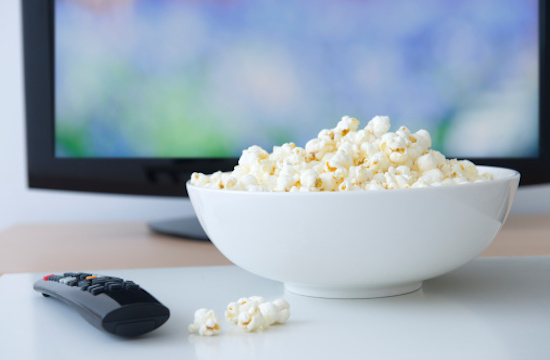 We know, we're bummed that summer has ended, too. But while we gag on pumpkin spice everything drink way too much beer watching football enjoy the dwindling days and comforts of fall, we also know that we can easily curl up at home with some of our favorite food TV shows.
This year's fall TV lineup has plenty of the shows we already love to watch: Parts Unknown, Top Chef, Mind of a Chef, all that jazz. And some of our fan-hits from last year are getting second seasons, justifying all of our binge-watching from last year. And of course we're pumped to watch some truly Boston-tastic spoofs this year on Top Chef. But this year's lineup has us pumped for some out-there, never-been-done before TV shows that are bound to have us drooling.
And it turns out, we just happen to really like PBS. Sorry, Mom, for resenting the fact that you made us watch PBS as a kid. The shows to DVR this fall:
Mind of A Chef, premiering September 6 on PBS
There's Edward Lee and Magnus Nilsson, being bad asses in every regard. The trailer is equally haunting as the two greats steal the show this season.
A Moveable Feast with Fine Cooking, premiering September 6 on PBS
The Emmy-nominated series follows Australian chef Pete Evans as he travels the country to cook with some serious chefs, like Stephanie Izard and Seamus Mullen. Don't watch if you don't want some heartbreaking wanderlust, though.
Food Forward TV, premiering in September on PBS
The newest food show to the PBS lineup, Food Forward TV's pilot was nominated for a James Beard award back in 2012. Now scheduled for a full 13-episode season, Food Forward TV is a glistening, shining star in a season of reality food TV and the like.
Epic Meal Time, airing now on the FYI Network
On the other end of the spectrum, our Epic Meal Time boys are being just completely ridiculous and silly and we need some absurdity in our TV schedule. Check out the first full episode on Youtube (and gimme one of those tatorbots, stat.)
Snack Time, airing now on MTV
In the same vein, Eddie Huang steals the show in his stoner food culinary challenge — the food show we really need.
Midnight Feast, permiering in October on the FYI Network
Top Chef alumn Spike Mendelsohn brings his talents to New York for a reality cooking show set in Chelsea Market. Three chefs have to cook with whatever they can find; winner gets a cash prize of the equivalent of 10 times the price of his or her meal, losers have to pay the grocery bill. Finally, a reality show based in the reality of bill-paying chefs — and at the very least, it'll inspire you to make a trip to Chelsea Market stat. No video trailer just yet, but we'll be waiting.
Parts Unknown, premiering September 28 on CNN
Season four of the Emmy-winning show promises to be a doozy — not including all of the drama around Bourdain's time in Iran.
Top Chef Boston, premiering October 15 on Bravo
Oh yeah, it's happening.
MasterChef Junior, premiering November 7 on FOX

OH YEAH, IT'S HAPPENING.
RELATED: "Emeril Lagasse's New TNT Show Features Home Chefs Vying to Cook for Chili's, Other Chains
he New Season of Top Chef Is Boston-tastic
It's Official: Roy Choi to Host Show on CNN, called Street Food
Have a tip we should know? tips@mediaite.com