The Best Of Hugh Acheson and Francis Lam's Top Chef Masters Commentary Last Night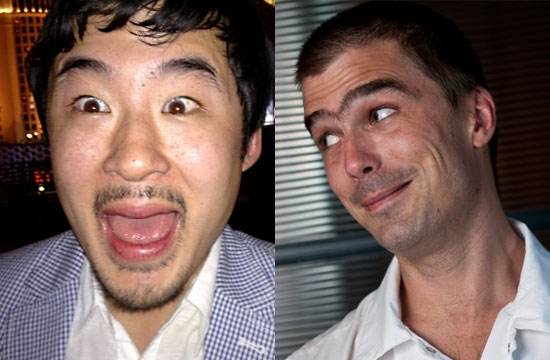 Hugh Acheson and Francis Lam were so thoroughly firing on all cylinders last night in their multi-platform Top Chef: Masters commentary that we couldn't resist compiling their best one liners, most layered burns, and most thoughtful criticisms.
Last night's episode featured both Dita Von Teese judging the Quickfire Challenge with a lone, slightly ruffled Curtis Stone, and the chefs competing in a single team restaurant wars inspired by iconic Vegas Thai restaurant Lotus of Siam.
Like many of you, we assumed it was Christmas when Hughnibrow and FranLam decided to live-tweet the episode. In our confused state, we began making eggnog while Hugh reached for the bourbon and Francis devised drinking games. Man are we glad someone else was covering the RNC.
Check out the best of Hugh and Francis' episode tweets below.
And, of course, Bravo's sassiest Top Chef judges are equally capable of snark and pith in 140+ character sentences, as evidenced by their Bravo blog recaps. Here are our top five excerpts from Hugh and Francis' posts.
Francis Lam, on why last week's celebrity guest judges owe him an apology:
"So, next to 'Can the chefs really cook?' the question I most get asked is, 'Did you get to meet [insert celebrity guest judge here]???' And the answer is no, I did not get to meet [insert celebrity guest judge here], though I would've appreciated a chance last week to apologize to the B-52's for shoplifting the Cassingle for 'Roam' when I was in high school. (I bought the album after! And their entire back catalog! Which got me called names by jocks and cool kids for years! So maybe I wanted an apology instead?)"
Francis Lam on why we shouldn't make fun of Curtis for losing it around Dita Von Teese:
And this week, I suppose I'm glad I didn't meet Dita Von Teese, because judging from the episode, there is not a grown man alive who can hold it together around her. Chris made the same face he made flying in a helicopter over the Grand Canyon, Takashi dutifully mentioned his wife before asking for Dita's number… even Art, who is married to a man named Jesus, was losing it when Dita tasted his homage to boobs. Who knows what dumbness may have fallen from my mouth?
Hugh Acheson making fun of Curtis:
Is Curtis the most dazed we have ever seen him? He is so buying 50 Shades of Grey after this Quickfire.
Hugh Acheson throwing a shout-out to the oft overlooked Magical Elves, Top Chef's production company:
Prep is very eventful though. They decide on Lorena and Art to be front of house and Lorena doesn't like it at all. Patricia decides that the best way to make Lorena feel more comfortable is to yell at her with a very condescending tone. Lorena does not like this at all and gets really pissed. The Elves then subtitle Chris, like he's suddenly speaking Esperanto.
Hugh Acheson with meta burns:
Lorena's soup garnishes were an issue. I have a rule that soup garnishes have to fit in a spoon. If the spoon was a giant soup maybe this would have worked.
Have a tip we should know? tips@mediaite.com