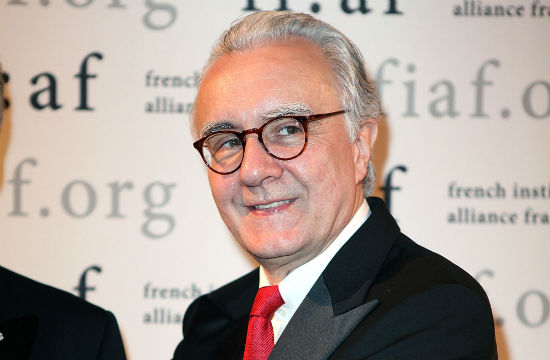 Alain Ducasse graced New York with his discerning palate for a whirlwind week-long trip, during which he conveniently dined in and benevolently weighed in on three of the hottest new NYC openings. And he arrived hungry: "I don't eat when I'm up in the air." Unlike Chrissy Teigen, who drinks pizza in-flight.
On Rich Torrisi and Mario Carbone's latest Italian-American red sauce joint:
"Carbone is a great hole-in-the-wall restaurant! We sampled a selection of antipasti: fluke ceviche with ramps, uni, fried shallots, beef carpaccio Piemontese, sweetbreads Milanese, warm fresh buffalo mozzarella with bottarga and caviar, baked clams casino, and bread sticks with Parmigiano Reggiano. For the main course, a pasta with calamari. My colleague selected a Giacomo Conterno's Barbera d'Alba. The setting is tremendously generous. The theatrics are part of the story that they're telling. It's in harmony with everything else, from the servers to the setting to the portions."
On Andrew Carmellini's new ode to the classic French bistro Lafayette:
I'm a huge fan of Andrew Carmellini, so we opted to try his latest restaurant, Lafayette. A grand place designed by the talented Robin Standefer and Stephen Alesch duo with a total New York vibe. We had a really nice meal over a charcuterie plate, a generous frisée salad, and a very good rotisserie chicken with potatoes and herbs. The wine list was very impressive with all French wines — thoughtfully put together and edgy. Andrew gets it. He's the golden boy right now in New York.
On JGV's new tapas space ABC Cocina:
Latin-American cuisine is top of mind in New York, unlike anywhere else. So Wednesday night, I wanted to taste Jean-George and his chef Dan Kluger's new ABC Cocina tapas menu. I was particularly impressed. It's even sexier than ABC Kitchen, if that's even possible. We nibbled on plates like the salty, delicious jamon Iberico, the tacos, and spring pea guacamole. Very relaxing.
We'll skip obsessively poring over, comparing, and contrasting local reviews. The master has spoken.
Have a tip we should know? tips@mediaite.com