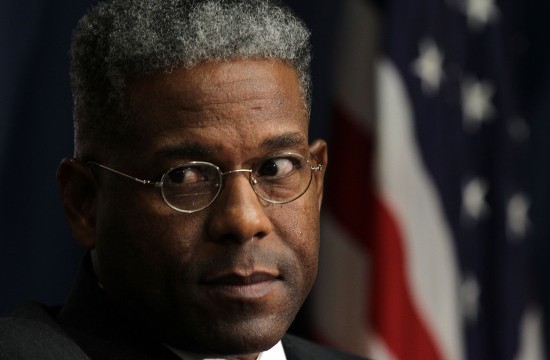 We're just going to be as straightforward as possible with this one.
Rep. Allen West (R-FL) is the lone Republican in the Congressional Black Caucus.
The rest of the Congressional Black Congress, naturally, does not generally agree with Rep. West.
Once, six months ago, he was responsible for bringing lunch to a weekly meeting of the caucus, and everyone expects lunch to be delicious, according to Rep. Alcee Hastings (D-FL). "We have fried chicken," he admitted to the Huffington Post. "And we have catfish and BBQ. We do not have watermelon, although sometimes people will have fruit. We serve a full course meal with collard greens. We have Jamaican beans and rice."
But that week, West sent Chick-fil-A with biscuits. And then he walked out of the meeting.
Hastings is pretty sure that West did that as a "screw you" to the rest of the Caucus, because West loves being hyperbolically mean to people. Every member of the Congressional Black Caucus "saw the act as a statement in support of Chick-fil-A's conservative views." (Later, as the scandal proper began, West reaffirmed his support for the chain.)
 Also, there's that ugly stereotype of black people and fried chicken: as Hastings explained, the fried chicken also said "'That's what I think of you all.'"
As a side note, West is up for reelection this year, and Hastings, whose district is right next to West's, just wanted to remind you all of this story.
Little did they know that his act of deep-fried defiance would set a precedent for all of this Chick-fil-A drama, which, we guess, technically makes West a trailblazer. Kind of.
[HuffPost]
Have a tip we should know? tips@mediaite.com