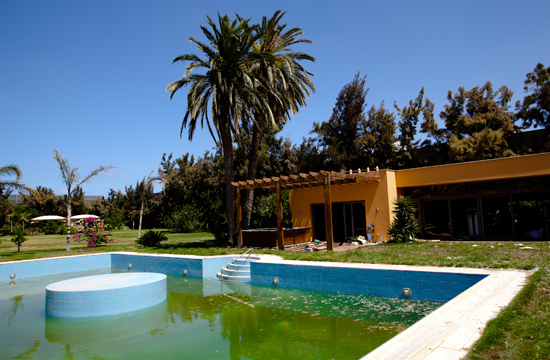 1) Thanks to this WSJ series about the beloved objects celebrities own, in which Anthony Bourdain recently participated, we have an odd, burning desire to see him sing this song:
We don't know why. We can't explain it. We feel weird about wanting it. But we inexplicably do. There's something wrong with us.
2) As for his favorite things, one of them happens to be a piece of the house owned by brutal Libyan dictator Muammar Gadaffi, the spelling of which cannot be universally agreed upon. He keeps it in a plastic Ziploc bag, and he got it while touring the ruins of the Gadaffi Compound:
I got the piece of Moammar Gadhafi's house when we were shooting there for Parts Unknown . We had a sort of friendly militia with us, and we bumped into a less friendly militia. Before we had to leave in a hurry, I got a nice chunk.
It's a good thing that it's kept in a Ziploc bag, since it is probably contaminated with human rights violations and asbestos.
(Also, we really want to hear more about that time Bourdain was dragged to a party held by the Gadaffis, which he mentions in Medium Raw. Did he ever imagine that he'd be chipping off a piece of their compound? Maybe, but probably on pain of getting his hands chopped off. The Gadaffis were nice people.)
[WSJ]
RELATED:
WATCH: Why Is Anthony Bourdain At A Fake KFC In Libya?
Kim Jong Il's Former Sushi Chef Returns To North Korea To Film Documentary
WATCH: Anthony Bourdain Shocked And Inspired By 'Skater Boys And Young Hipsters' Behind Libyan Revolution
Have a tip we should know? tips@mediaite.com