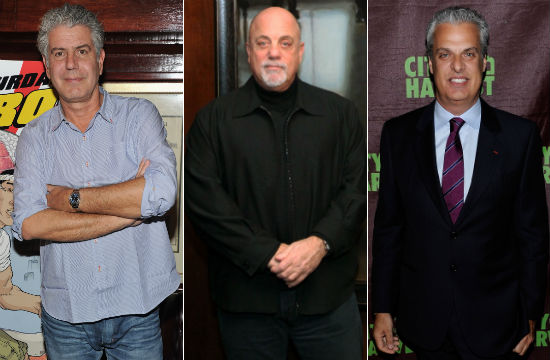 Nothing bores us more than music snobs debating the legitimacy (or lackthereof) of a particular artist and their early work vs their downward spiral into the mainstream. We get it; no one reads more Pitchfork than you. However. When Anthony Bourdain and Eric Ripert do it, it's awesome. Mostly because the debate plays out minus any hipster pretensions and because the artist in question is Billy Joel.
Between Eric's perma-accepting, Zen-ed out, firmly-rooted-in-a-place-of-yes outlook on the world, and Anthony's crotchety maligning of all things cheery, the subsequent argument examining the crappiness of Billy Joel's music reads like the oldest married couple on the planet lovingly giving one another all the shit they can muster. Check out this excerpt from Hamptons Magazine below and feel free to fantasize about dropping in on the Ripert/Bourdain family BBQs.
AB: I was just thinking you should do Treme with Billy Joel because we have this sort of strange and tortured relationship. We're actually pretty friendly, we've had dinner a couple of times, and Billy knows full well I hate his music.

ER: You hate his music? I like Billy Joel!

AB: Sometimes you frighten me. It used to be a firing offense — you could be fired in any restaurant I've ever worked if you were heard listening to Billy Joel and visibly enjoying his music. But what's interesting is Billy knows this.

ER: It was romantic! In nightclubs, and when it was slow you could dance with the lady and Billy Joel was singing. It reminds me of that.

AB: If I come over to your house for lunch and you're playing "Uptown Girl" and boogying around the pool, I'm turning around and heading back to my house. But I like him personally a lot. We've actually sat at a table together, I'm socking back the Negronis, and he was like "Really, you hate all my songs?" "Yeah, pretty much." I liked his first band, Attila; they rocked.
Have a tip we should know? tips@mediaite.com