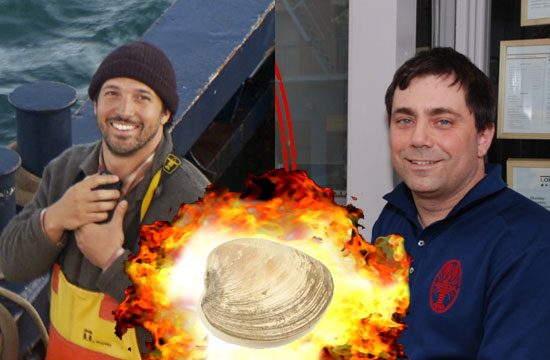 While the world fights each other at the Olympics today (in the interests of international goodwill,) a very different, ancient game between two rivals is going on today at Yankees Stadium. Okay yes, there's that Red Sox-Yankees rivalry. But we're really talking about the epic Chowder Showoff between two of New York City's best lobstermen that will go on during the game to benefit the Food Bank for New York City.
In one corner: Ed McFarland of Ed's Lobster Bar, making a tomato-based Manhattan clam chowder.
In the other: Ben "Lobstah Pusha" Sargent, he of Cambridge, MA and the show Hook, Line and Dinner, making a creamy New England clam chowder.
We got a chance to talk game strategy with these friends-turned-bitter-rivals-for-one-day before the event, as well as their own tips about chowder, and who the best Bostonian is (Sargent: "Definitely Mark Wahlberg, 100%.")
The Braiser: So how did you both get involved in this event?
Ed McFarland:  I've known Ben for a few years, and his people contacted me about being part of the event.
Ben Sargent:  Back in the day, I had a—I did this thing with a buddy of mine where I served clam chowder outside of Yankee Stadium. Just by ourselves…And that went on Youtube, and it almost went viral…So I guess that's how it all started.  If you type in "Stupid Sox Fan Serves Clam Chowder outside of Yankee Stadium," you'll see what I'm talking about. I almost died. I almost got my ass kicked. It was great.
What makes a Manhattan clam chowder better than a New England one?
Ed McFarland: I don't know if I really want to agree with that statement, but in the spirit of the competition, I just think that at the end of the day any food with fresh tomato juice – not canned tomato – anything with fresh tomato juice, fresh juice is going to be better than anything with cream.
Ben, do you think that Ed has some tricky New York tricks up his sleeve?
Ben: I know he does! He's got the harder chowder. He and I agree that, you know, the better chowder – we don't necessarily agree on our sports teams, but we do agree that the better chowder by nature is a New England clam chowder….So I have a feeling that yeah, he's gonna pull something on me.
Will either of you benefit or have a disadvantage from cooking at Yankees Stadium?
Ben: I'll be honest with you, there's two good things going for me. One is that it's a little bit safer being inside Yankees Stadium, because outside Yankees Stadium is much scarier. There's nothing to protect me. Inside Yankees Stadium is my own crew… It's a little more of a controlled environment.
Ed:  I'm gonna have to go with the home-field Yankees fans that are gonna be in the box there. I think that's gonna be a big advantage on my part, absolutely. I don't know that I'm gonna be chanting "Who's your daddy?", but I will definitely be cheering loudly.
Both of you got your reputations through making particularly delicious lobster rolls. How do you make a humble, rustic chowder "crack"-like and decadent?
Ed: I think it's very easy to make a chowder decadent, and I guess a chowder's a rustic-type product and that's the way we generally think of it. But, if you remove the stickiness…you do it with reduced creams or with fresh fishes – as I do with the Manhattan clam chowder – I think that it just makes a different, silky texture to it that makes it more decadent as opposed to rustic.
Ben:  You know, I got my start with chowder before I went into lobster rolls, so I'm actually probably a more confident chowder maker than I am even a lobster roll maker. I just love it. For me, it's like the best thing on earth. And there are a few tricks that, I always say, make a chowder on steroids. One of the ways you do that – sort of cheating, but: start with bacon. Or in my case, salted pork. The fatty part off the back of a pig. So basically, before you even start…you're lining your pot with what is essentially the oil from bacon. There's a lot of tricks to chowder. I'm sure you've heard the expression "low and slow," but the idea is really "work on your chowder all day, and let the flavors sort of come together."
Where do you like to go for chowder in your own respective home cities?
Ben:  Ironically, one of the places I went to in my childhood that was widely regarded as having the best chowder ever…I [recently] had a very very sad eye opening experience, which is that – I found industrial-sized premade clam chowder cans. You know, the whole family and everybody in Martha's vineyard espoused it as the number one place for homemade chowder.  Very sad discovery. But if you're not obsessed with chowder, you'll never get to the bottom of this story.
Ed:  I generally eat at my own restaurant.
Have a tip we should know? tips@mediaite.com