Bon Appetit's 10 Best New Restaurants Of 2012: Nary A Celebrity Chef To Be Found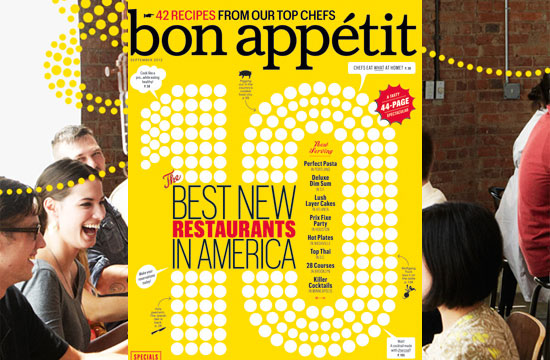 Despite the lack of food pictures on this issue's cover, Bon Appetit Magazine's annual list of the 10 best new restaurants in America, winnowed down from a massive but elite list of 50, represents what the periodical believes are the best of the latest trends in dining.
But really, we loathe to say "trends," mostly because these ten restaurants represent what author Andrew Knowlton believes is a major shift in the way people dine out:
"Ten years ago, [my favorite restaurant] was most likely one of those 'temples of gastronomy,' a restaurant with 800-thread-count white tablecloths, entrées hovering around $40, and an exclusive atmosphere. Five years ago, things started to relax, and it wasn't just the food: The Clash played on the speakers, the chairs were backless, and customers balked at the long lines rather than the high prices."
And now: the ten best new restaurants are small, personal, and have a distinctly indie vibe. Everyone is tattooed, everyone serves food that screams the chef's distinct personality, and everyone believes that their menus should be affordable. (That's good for everyone caught in this weird recession who likes eating.)
But most importantly, from an initial list that included media-feted restaurants from famed chefs like Michael Voltaggio and Daniel Humm, Knowlton eventually chose restaurants unburdened, to a point, by food media fame. (Sure, Blanca in Brooklyn is the "sister" restaurant to the famous pizzeria Roberta's, but that's the extent of his acquiescence to food hype.) In fact, the most "celebrity" name in the list works at Atlanta's Cakes and Ale, where Knowlton singles out Top Chef: Just Desserts baker Eric Wolitsky for his "magic… high-end takes on bake-sale favorites." Granted, this is the list that celebrates the up-and-coming chefs, and we wouldn't be surprised if at least one of these restaurants gets a television deal soon, but in a world where the line between celebrity and chef is increasingly blurred, it's a relief to see a fresh batch of names..
The full list can be found below, and you should probably make reservations as soon as possible if you're anywhere near these restaurants.
Have a tip we should know? [email protected]