We Are Not Going to Be Able to Keep Our Sh*t Together at Charlie Trotter's Memorial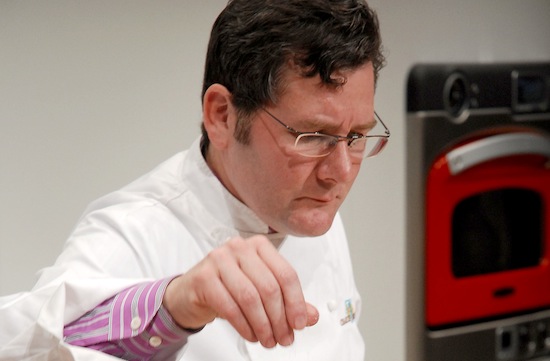 Tomorrow will be the memorial service for Chicago chef Charlie Trotter, who died earlier this week, stunning the culinary world. Knowing that we will not be able to to lock it up in our sadness, we turn to the chefs and writers who have so sweetly eulogized him anticipating his burial.
Up first: Graham Elliot penned a very sweet essay dedicated to Trotter in People, of all places. Elliot talks about the chef and legend who "now belongs to the ages":
Chef, mentor, trailblazer, philosopher, artist, teacher, leader. These are the words that immediately come to mind when I think of Charlie Trotter, or CHT, as he was referred to by the team. Rarely does one encounter an individual that can both inspire and frighten you with his (almost perverse) dedication to excellence and perfection. …

There are a million Charlie stories—like the time he handed out copies of Ayn Rand's The Fountainhead (a book that literally changed my life); the day he made the team come in early to watch the old German movie Fitzcarraldo; and when he made me go out to the dining room to personally appologize to a table for leaving plastic wrap around a piece of terrine. But there is not enough space on this page to share them all, let alone explain to you how important Charlie Trotter was to me, the chef community and the food world as a whole.
(People also has the recipe for his peppered tuna, in case anyone wants to memorialize him with food.)
Over at Eater, two of Trotter's proteges, Curtis Duffy and Matthias Merges, talk about his immense influence on the cooking world (though neither were on speaking terms with him at the time of his death). Said Duffy, "He's still going to have an impact on the restaurant world 100 years from now."
The New York Times accurately sums up Trotter's legacy: "There are two eras in Chicago dining: B.C. and A.C. Before Charlie and After Charlie." Said Elliot to The New York Times (he's really all over the papers in Trotter remembrances, "He created chefs, not cooks." Among those chefs, Homaro Cantu, Art Smith, Giuseppe Tentori — and those are just the chefs in Chicago.
And then come the editorials, from Trotter's hometown paper, the Chicago Tribune. Writers at The Trib call Trotter "an artist in every way: at times personable, at times insufferable, always passionate, always a creative force."
He was, indeed, a character… Chicago embraced him in all his tempestuousness. After all, Chicago has never expected its geniuses to be mild-mannered.

He was, indeed, a chef. Chicago had its share of famous restaurants before Trotter burst into prominence a quarter-century ago but it was still something of a second city in gourmet circles. Trotter added seasonal dining with ingredients geared to the changing weather, tasting menus featuring multiple courses with wine pairings, and fabulously varied meals made of raw ingredients that exuded freshness and purity… His philanthropic foundation championed culinary education and other causes.

Charlie Trotter did nothing less than help to build and sustain Chicago as a world-class city. We celebrate his profound accomplishments.
There's going to be a lot of tears tomorrow.
[People, Eater, The New York Times, Chicago Tribune]

RELATED:
Charlie Trotter's Wife Addresses Rumors of Late Chef's Illness
Last Call: Charlie Trotter Autopsy Deemed Inconclusive
Chefs Eulogize Charlie Trotter on Twitter
Have a tip we should know? tips@mediaite.com