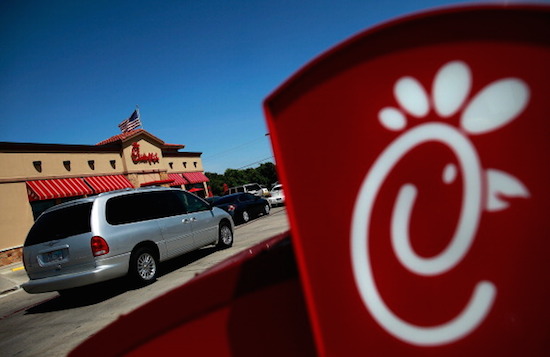 The Atlanta businessman, known for the chicken sandwiches you love to eat and love to hate, died at his home on Sunday.
The Associated Press obituary of S. Truet Cathy doesn't fail to remind us of the gay marriage clustercluck that his chain of Chick-fil-A restaurants incurred, thanks to homophobic statements by his son and chairman, Dan. But also, those chicken sandwich haters have nothing on his $6 billion-empire:
Cathy opened his first postwar diner in an Atlanta suburb in 1946 and by 1967 he had founded and opened his first Chick-fil-A Inc. restaurant in Atlanta. Over ensuing decades, the chain's boneless chicken sandwich he is credited with inventing would propel Chick-fil-A expansion to more than 1,800 outlets in 39 states and the nation's capital.

By early 2013, the company says on its website, annual sales topped $5 billion as the chain offered up a taste of the South that went beyond chicken to such offerings as sweet tea, biscuits and gravy.
The New York Daily News notes how his Southern Baptist roots shaped his business from the beginning; long before the 2012 protests of the chain, Chick-fil-A stirred up controversy by closing on Sundays for the Sabbath. Cathy was also a huge donor to local foster homes, reports the Christian Post, and formed a scholarship fund through the chain.
[Washington Post, New York Daily News, Christian Post]
RELATED: WATCH: Chick-fil-A CEO Reverses Reversal, Says That Company Still Supports "Biblical Families"
Chick-fil-A Waffles On Their Waffling, Claims They 'Made No Concessions' To Marriage Equality
Everything You Need To Know About Yesterday's Chick-Fil-A Appreciation Day
Have a tip we should know? tips@mediaite.com