Chris Cosentino's Essay Contest Winner Will Have The Best Indentured Servant Experience Ever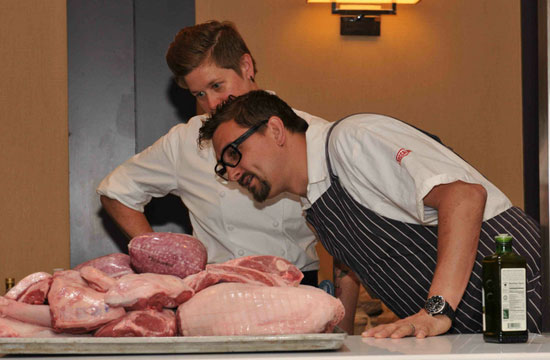 Every year, Chris Cosentino holds an essay contest. The winner of said essay contest at Incanto gets a very special prize: for one week, they will be Chris Cosentino's bitch indentured servant special volunteers, helping him out in the kitchen at Incanto while learning to cook offal during the special week of the "Head to Tail" menu. That, maybe a dinner out, and a very fancy meal at the end of said week, is all the compensation they will receive.
"You will work your ass off, have some fun and learn a ton, but there are rules to this game," says the Willy Wonka of innards on his site. "You must submit your resume and a short essay on why you should be one of the chosen ones. This is a busy time and I don't have time to be baby sitting. The Head to Tail dinner is a multi-course menu with a shit load of detailed work."
(Thank goodness the contest is open only to professional cooks, though we know there are plenty of deluded amateurs out there who would hire Malcolm Gladwell to write their essay for a chance to work with Cosentino.)
But there's also some fun times in store for the winner, which we're sure that 17th century indentured servants never got to experience: on Tuesday, Chris Cosentino will take the winner out into San Francisco to eat pork do something fun, and once the week is done, they also get t-shirts.
Are you a Normal who wants to play along, but too scared to actually handle guts? Cosentino's also holding a "photo-stagé," too! Which is a thing that is real! People get so inventive with contests.
[Incanto]
Have a tip we should know? tips@mediaite.com