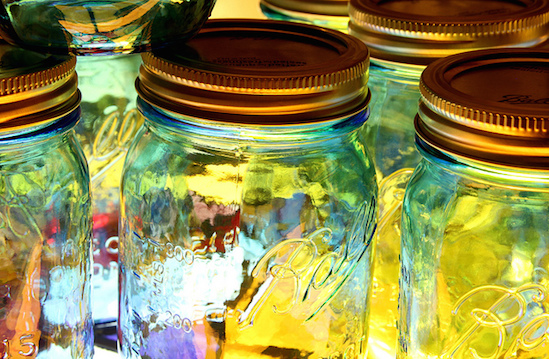 Oh, this New York Times article is such a treat. Much like realizing that pork belly and protein-rich crickets are things now, the Times is also shedding light on a trend that also needs lots and lots of attention: Mason jars!
The New York Times gets into the rich history of Mason jars (fact: did you know they were not just built for decor but also for necessity?), and the popularity of them today. One manufacturer, Jarden Home Brands, has seen its Bell Jars sales double from 2001 and "home-preserving products" sales jump up 25 percent. It's kind of the shit economy, says the Times, but also homegrown millennials causing the uproar. From the Times:
The turning point in the recent history of the Mason jar was the start of the recession in 2008. "People stay home," [Chris Scherzinger, president and chief executive of Jarden Home Brands] says of that time. "They don't go out as much. They kind of go back to what the core of their roots are."

The personalized food movement, as Mr. Scherzinger calls it, began to emerge. According to him, 82 percent of Jarden Home Brands' customers have their own gardens, and many patronize farmers' markets.

"They want to get their hands dirty; they want to be involved in the process, selection and the making of their food," he says. "And canning is an extension of that."
But by far, the whole gem of the piece is the RETURN OF THE 7-ELEVEN MASON JAR SLURPEE. The crown jewel in everything that we hate. The Times talked to Laura Gordon, vice president for marketing and brand innovation at 7-Eleven, about why these monstrosities exist:
…"We really do believe the millennials are striving for a combination of what's real and also that moment of going a little bit against the grain so they can show their individuality," Ms. Gordon says. The company sells the jars for $2.99, and she says "they're going fast."
BUT ARE THEY REALLY.
RELATED: Starbucks Testing Cold Brew Coffee, So Just Give Up Now
They're Done: 7-Eleven to Serve Slurpees in Mason Jars with Moustache Straws
Have a tip we should know? tips@mediaite.com